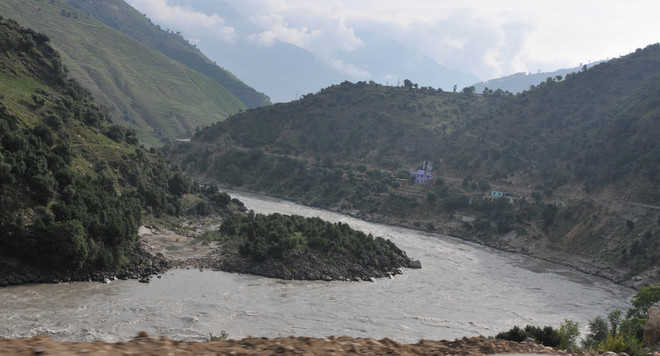 Sumit Hakhoo
Tribune News Service
Jammu, October 9
The India-Pakistan hostility is likely to cast shadow on the ambitious Chenab water diversion project as Japanese International Cooperation Agency (JICA) and the Centre are yet to reach an agreement to fund the scheme, which aims at ending the perennial water crisis facing nearly three million people in J&K.
The project, first conceptualised in the late 1980s, and a detailed project report (DPR) formulated in 2008 is pending with the Department of Economic Affairs, which comes under the Union Ministry of Finance, for the last two years.
After the 2016 Uri terror attack, the Prime Minister Narendra Modi-led Centre had announced speedy clearance and funding for the project and other schemes on western rivers (Chenab, Indus and Jhelum) and eastern ones (Sutlej, Ravi and Beas) covered under the Indus Water Treaty, 1960.
Sources said the Centre had decided to approach JICA for funding the scheme after Asian Development Bank declined to finance it.
"There is no clarity regarding the reasons for the delay in getting funds from JICA. Technically, there is no problem in the plan but the reason for the reason can be clarified only by the Centre," said a senior Public Health Engineering Department official.
If completed, 500 million gallons daily (MGD) were to be diverted from the river at Akhnoor in the Jammu division for the augmentation of the existing drinking water supply system in southern districts of J&K. In Phase-I, 250 million litres a day (MLD) will cover a population of 25 lakh by 2031 and in Phase-II, 250 MLD will meet requirements of 37 lakh people in 2046.
"It was one of the priority projects. It has to be seen how the scheme gets funds post revocation of Article 370, as earlier, when Asian Development Bank was approached, China and Pakistan had raised objections," said a senior administrative officer involved in the project formulation during the previous NC-Congress government.
Bachan Lal Bhagat, Director, Economic Reconstruction Agency, said, "We have information that a meeting will be held soon to discuss the funding issues. We have been asked to provide details." Bhagat, however, did not share any further information about the reason for the delay.
Timeline of programme
2007-08: First detailed project report formulated during the PDP-Congress coalition rule
2009-2014: Omar Abdullah-led NC-Congress government fails to submit detailed environmental assessment report with Asian Development Bank (ADB)
2015-16: ADB declines to fund project. Centre decides to approach Japanese International Cooperation Agency. Project awaits finances