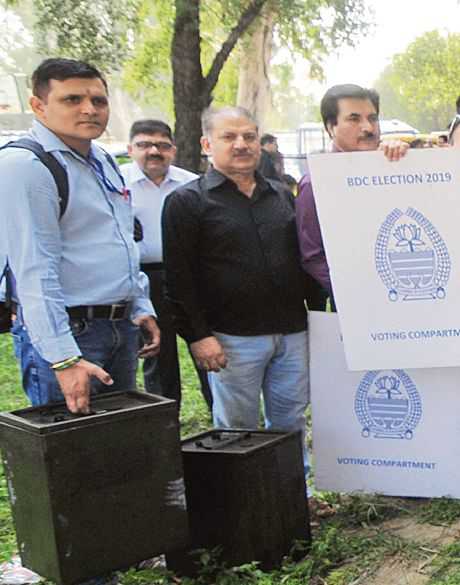 Dinesh Manhotra
Tribune News Service
Jammu, October 23
The stage is set for the first-ever Block Development Council (BDC) elections in the history of J&K tomorrow with 26,629 voters deciding the fate of 1,065 candidates across Jammu, Kashmir and Ladakh regions.
Of the 316 BDCs, elections will be held on 280 seats as 27 BDC chairpersons have already been elected unopposed. No elections will be held on nine seats.
As per the latest data available, in three BDCs, all candidates withdrew their candidatures at the eleventh hour, thus no elections will be held on these three seats.
Of the 26,629 votes, Kupwara has the maximum 2,783 voters followed by Jammu 2,703 and Rajouri 2,687.
Polling will start at 9 am and conclude at 1 pm. Counting of the votes will begin at 3 pm onwards and all results are likely to be announced by Thursday evening. J&K is witnessing the BDC polls first time in the history as earlier elections for only panchayats were held. Although elections were announced on party lines, only BJP and Panthers Party have fielded their candidates as other parties have boycotted the polls.
The government had announced that the BDC polls would be followed by elections of chairpersons of District Development Boards to set-up three-tier Panchayati Raj Institution in J&K. The government has reserved 172 seats for the Scheduled Tribes and Scheduled Castes. Also, 33% seats have been earmarked for women panches and sarpanches.
Election boycott
Although elections were announced on party lines, only BJP and Panthers Party have fielded their candidates. Other parties have boycotted the polls
The BDC polls will be followed by elections of chairpersons to District Development Boards
Top Stories