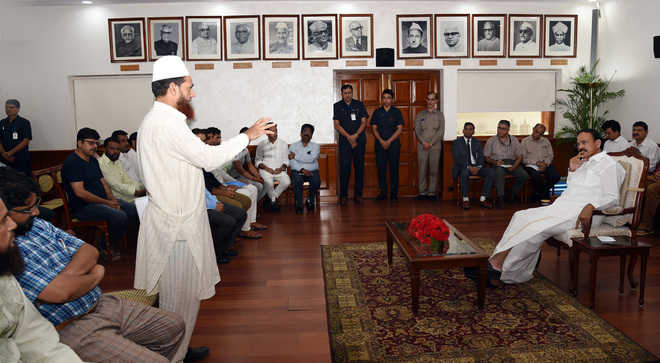 Tribune News Service
New Delhi, September 22
The Centre has set its eyes on elected panchayat representatives in Jammu and Kashmir to build up a pool of new leaders evolving from grassroots democracy to fill the political space after it has decided to scrap special status provided to the state under Article 370 and reorganising it into two Union Territories.
The move in the corridor of power here in the national capital is seen as the Central Government's embedded strategy to reboot the two UTs by phasing out the old established political order, which was largely dominated by a couple of entrenched families of the Valley.
A senior official in the Ministry of Home Affairs (MHA) said the established leaders in the old order in J&K could dominate the political theatre in the state largely on account of the "special status" provided under Article 370 and so "are opposing the Centre's latest move".
He said: "Now in a changed circumstances, the two UTs will look for fresh leadership and the elected panchayat representatives are going to be the natural choice to fill the void and thus the leadership will also get broad based."
As the Centre's decision on Article 370 and reorganisation of the state was the work in progress for quite some time, panchayat elections were held last year to elect close to 40,000 panchs and sarpanchs in the state, another official said, adding though the two established parties - PDP and NC - boycotted the polls, the leadership in the Central Government took this up as an exercise "in deepening democracy and taking politics to the grassroots" and moving it away from dominance of "two families".
With most political workers and leaders Kashmir detained since August 5, it is through these elected representatives that the Centre hopes to realise its promise of taking development to the remotest corners of J&K, the officials said.
Keeping this in mind, the Centre is not only directly funding the panchayats in the state, it is also preparing a programme to train all newly elected sarpanches and panches in the state on how to take various schemes that will now be extended to the two UTs.
The training modules, as are being worked out by the Ministry of Panchayatiraj, are also aimed at making the panchayat leaders aware of various new laws that will now be applicable to the two UTs - J&K and Ladakh.
Earlier this month, close to 100 sarpanchs and members of various panchayats across J&K had come to Delhi to meet Home Minister Amit Shah.
Top Stories