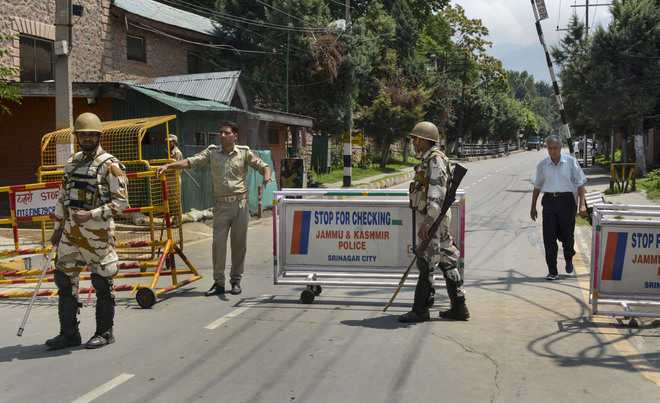 Tribune News Service
New Delhi, August 9
With the President giving his assent to Jammu and Kashmir Reorganisation Act, 2019, dividing the state into two Union Territories, in a separate notification the government on Friday fixed October 31, 2019, as "the appointed day" for it to come into effect. The two UTs which will come into existence on October 31 are Jammu and Kashmir and Ladakh.
Parliament had earlier this week given its nod to the legislation dividing the state, a bold and far-reaching decision that seeks to redraw the map and future of a region at the centre of a protracted militancy movement.
In the gazette notification, it said, "The following Act of Parliament received the assent of the President on the 9th August, 2019, and hereby published for general information..."
In a separate notification, the Ministry of Home Affairs (MHA) said, "In the exercise of the powers conferred by clause (a) of Section 2 of the Jammu & Kashmir Reorganisation Act, 2019, the Central government hereby appoints the 31st day of October, 2019, as the appointed day for the purpose of the said Act."
Meanwhile, speculation is rife in the North Block that the government is actively considering possible names to be appointed as the first Lieutenant Governor (L-G) of the newly formed UT of J&K. Sources said names of Adviser to J&K Governor Vijay Kumar and Centre's special representative in the state Dineshwar Sharma are doing the rounds as top contenders for the post.
Kumar is a 1975-batch IPS officer of Tamil Nadu cadre while Sharma is a 1976-batch IPS office.
Doval, Guv discuss security situation
National Security Adviser Ajit Doval met Governor Satya Pal Malik in Jammu on Friday
During their discussion on the security scenario, they also emphasised importance of reaching out to people and helping them meet their daily needs besides ensuring their safety and security.
Malik also discussed the arrangements made by the administration to facilitate people for observance of Eid-ul-Adha
Top News
Launches attack against nepotism and graft; seeks collective...
Says Congress will oppose attempts to put leaders like Gandh...
Exhorts people to wage war against social maladies like unem...
Special CBI court in Mumbai on January 21, 2008, sentenced 1...
Chandrashekhar Harbola was part of a 20-member troop that wa...