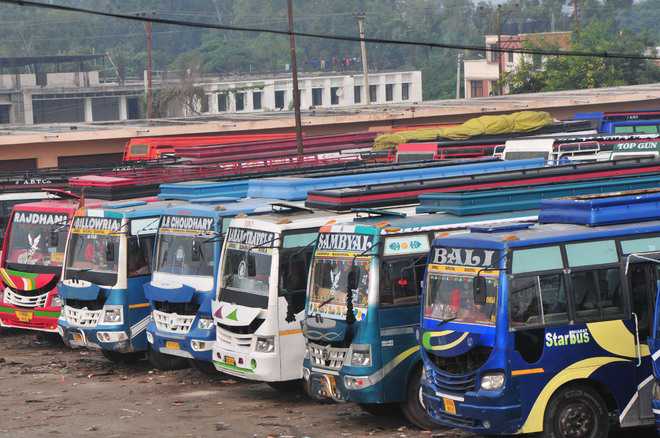 Tribune News Service
Jammu, October 19
The Jammu-Kathua Bus Association has deferred its strike till October 31 on Saturday, after six days of complete bandh on the national highway.
The strike was called off after the state administration assured the association of accepting their demand after the implementation of Union Territory in J&K and Ladakh.
The association announced to defer the strike from immediate effect this evening after meeting with officials of the state administration.
Meanwhile, the bus service on the Jammu-Kathua national highway remained suspended on the sixth consecutive day against the installation of new toll plaza at Sarore in Samba district.
The All J&K Transport Association had also observed one-day strike in Jammu on Thursday against the toll plaza. However, the Jammu-Kathua Bus Association continued it till Saturday.
Apart from the transporters and bus associations, different political and social organisations have also come up against the toll plaza demanding abolishment of the toll plaza from Sarore.
The toll plaza at Sarore was inaugurated by the NHAI on October 11, drawing a strong protest from the people from all sections of the society and political parties, including the BJP, which had written a two-page letter to the Union Transport Ministry seeking abolishment of the toll plaza.
The Congress, National Conference, Panthers Party, Peoples Democratic Party (PDP) and other groups have also demanded abolishment of the toll plaza.