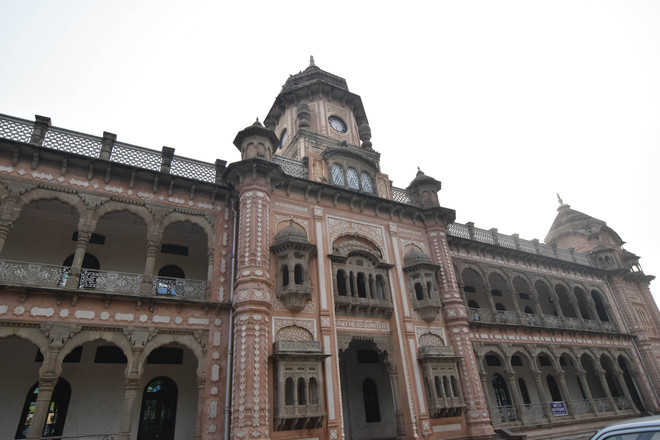 Tribune News Service
Jammu, November 22
The rich cultural heritage and untapped tourism potential remains in a state of neglect in Jammu city, famously known as the City of Temples.
As the state is celebrating World Heritage Week, attention has been again drawn towards the failure of the successive governments to safeguard some of the finest historical monuments in the state, especially in the Jammu region.
Despite having a rich historical past, Jammu, once the seat of the Dogra dynasty, has remained neglected when it comes to preserving its history.
World Heritage Week commenced on November 19 and will conclude on November 25. The Department of Archaeology and Archives has initiated several public events showcasing the literary and historical heritage of the state, but monuments need a comprehensive plan.
While the government has formulated several events in the capital cities, Mubarak Mandi Palace, Bahu Fort and forts at Samba, Akhnoor and Reasi remain in a state of neglect.
The crumbling historic Mubarak Mandi complex — the insignia of royal memorabilia and residence of the erstwhile Dogra rulers in Jammu and Kashmir — craves for a new lease of life. The government apathy could be gauged from the fact that in more than nine years of the restoration project being initiated, a meager 7 per cent of the total estimated cost has been released so far, while the actual expenditure on the project is even lesser at 5 per cent.
As a face-saving exercise, the Department of Archives, Archaeology and Museums has organised an exhibition of archival records, natural heritage, historical documents and rare books at Mubarak Mandi.
At the erstwhile Prince of Wales College, now GGM Science College, theauthorities have organised events to celebrate Heritage Week.
Top News
Five-judge Constitution Bench had reserved the verdict on Se...
Next hearing soon, closely following matter and extending al...
Sonia Gandhi, Mallikarjun Kharge, Rahul, Priyanka attend the...
Flags concerns to US, Canada over Pannun's threat to Air Ind...