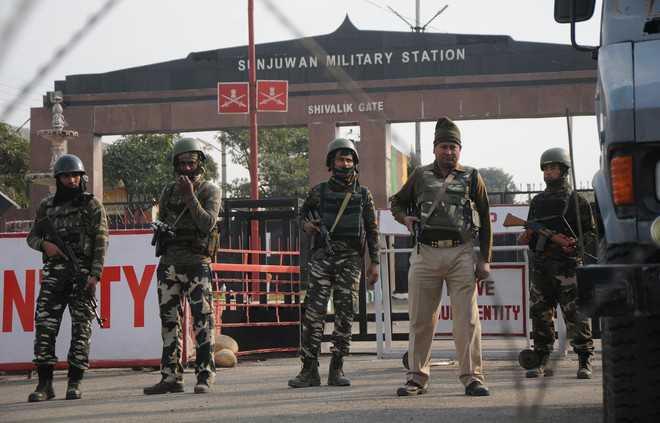 Azhar Qadri
Tribune News Service
Srinagar, February 10
The Jaish-e-Mohammed's Afzal Guru Squad, named after Parliament attack convict, has emerged as the most lethal arm of insurgency, choosing targets at will.
In the last three years, the squad has put its footprint in and outside the state and also in foreign land.
From Tangdhar in a remote corner of Kashmir to Srinagar in the heart of the Valley, from Pathankot in Punjab to Mazar-e-Sharif in Afghanistan, the squad attacked vital and fortified army and paramilitary installations and its cadres left deliberate traces of identity: The Afzal Guru Squad.
The squad returned today, a day after the fifth death anniversary of Afzal Guru, when its fidayeen unit stormed an Army camp in the Sunjuwan locality of Jammu city. The attack had an echo of past raids: The Army camp's heavily guarded perimeter was breached and the raiding unit barricaded itself in a multi-storeyed building, turning it into a fortified bunker. Its aim: To kill and get killed.
It is the second major fidayeen attack by the Jaish this year. In the January 1 attack, it had reintroduced Kashmiri fidayeen who stormed into a paramilitary camp at Lethpora in Pulwama district.
The Jaish made a lethal re-entry into the Kashmir theatre with a series of fidayeen attacks, the first one on December 5, 2014 — the eve of the anniversary of the Babri Masjid demolition — when six militants stormed an Army camp at Mohra in north Kashmir and killed 10 soldiers and policemen.
Even as the Jaish was written off as a significant threat by the turn of the last decade, its emergence as the most lethal arm of Kashmir insurgency was established last year when it overshadowed the Lashkar-e-Toiba and the Hizbul Mujahideen.
In 2017, Jaish's fidayeen squads carried out attacks against the Army, paramilitary and police installations in north Kashmir's Kupwara district, in south Kashmir's Pulwama district and outside the airport in central Kashmir — revealing the breadth of its capabilities.
Over the last several months, the Jaish has consolidated its strength in south Kashmir districts where, according to the police, 10-15 of its cadres and commanders are based and are headed by a militant, Mufti Waqas.
Top News
The move comes ahead of Prime Minister Narendra Modi's visit...
India offers to build transport networks in Central Asia; ta...
Ashish Mishra, son of Union Minister of State for Home Ajay ...
Police say that based on a complaint, an FIR has been lodged...
At 8.56pm on Monday, the troops hear the sound of a drone fr...