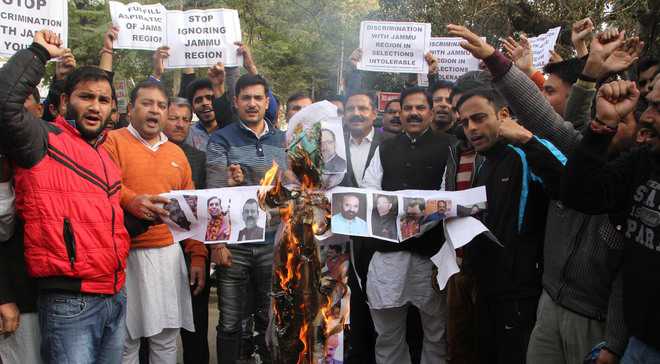 Arteev Sharma
Tribune News Service
Jammu, December 6
The ruling coalition government, particularly the BJP, is facing flak for subjecting candidates from Jammu and Ladakh regions to "grave injustice" in the recent selections for the post of junior assistant at the civil secretariat.
The "criminal silence" of the BJP ministers over the matter has drawn sharp criticism from different quarters as well as created a divide within the saffron party.
"I don't know why the party's state leadership and ministers are silent on this grave injustice with Jammu youth. They should have raised this issue vociferously for the people who voted them to power. I strongly condemn this kind of approach by the government. It is high time the people of Jammu strongly protested the decision," said BJP state spokesperson Virender Gupta.
Gupta, who was critical of BJP's silence, said it was not for the first time that this government has discriminated against youth from Jammu and Ladakh. "Be it the Public Service Commission (PSC) or posts in medical colleges, youth from Jammu have been subjected to discrimination. An impartial inquiry into the selection needs to be ordered," he said.
As reported in Tuesday's edition, the recent selection list for the posts of junior assistant in General Administration Department (GAD), released by the Jammu and Kashmir Services Selection Board (JKSSB) last week, revealed that 27 of the total 28 candidates in the open category were selected from the Kashmir valley. Of these 27 candidates, 21 belonged to Chadoora subdivision in Budgam district alone.
"Routine injustice towards people of Jammu and Ladakh regions. A cause for the growing divide and resentment within the state," Vikramaditya Singh, former MLC and scion of erstwhile Dogra rulers, wrote on Twitter while posting a clipping of the news report.
Ved Mahajan, Jammu-based senior PDP leader, however, evaded queries on the subject, saying that he was busy in a function.
Reacting sharply to the "step-motherly treatment" with youth from the Jammu region, Zorawar Singh Jamwal, chairman of Team Jammu, said: "For the greed of power, the BJP ministers have maintained a criminal silence on the discrimination against youth of the Jammu region. The patience of Jammu youth is running out." Ravinder Sharma, state chief spokesperson of the Congress, brushed away the selection list as "mere eyewash". "We are not against any particular region but it needs to be probed thoroughly how the candidates from a particular area have got selected". Rouf Ahmed, a youth from Doda, remarked: "This is the worst kind of discrimination while providing employment to educated youth."
---
Panthers party protests 'biased' selections
Jammu and Kashmir National Panthers Party (JKNPP) on Wednesday staged a demonstration against the PDP-BJP government over the "unprecedented bias" against the Jammu region in the selections conducted by the JKSSB, PSC and other recruiting agencies for government jobs. Scores of JKNPP activists led by party chairman Harsh Dev Singh raised slogans against the PDP-BJP government and set ablaze the "25-headed monster of the saffron brigade" symbolising an identical number of BJP legislators "surrendering before the Kashmir-centric leaders to enjoy the crumbs of power"
Top Stories