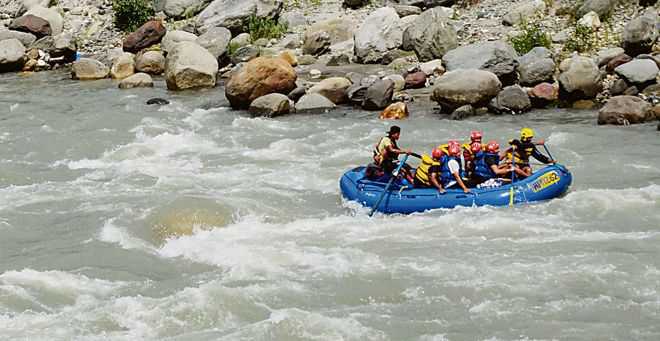 Tribune News Service
Srinagar, June 1
A young tourist guide drowned but only after he managed to save the lives of at least seven tourists in Pahalgam. The tourists' boat capsized in the gushing Lidder stream, officials said.
The officials said Rauf Ahmad Dar, the guide, was a resident of Kulgam district's Yinad village.
The raft capsized at a rafting point in Mawoora Pahalgam after it was caught in sudden gusty winds and all passengers onboard fell in the Lidder river, the officials said.
Dar, who is being described as a braveheart, saved the lives of all tourists but could not save himself.
The officials said a rescue mission was launched by the local police and State Disaster Response Force (SDRF) to save the young man. However, only his body could be recovered on Saturday morning near the Bhawani bridge. After completion of medico-legal formalities, it was handed over to his relatives, said officials.
Deputy Commissioner Anantnag has recommended Dar for bravery award, the officials said, adding the chief secretary has also hailed his bravery and directed the district administration to support the family of the deceased.
Dar's braveheart act has also earned him tributes on social media.
Omar Abdullah, the state's former chief minister, tweeted about Dar's bravery.
My salute to this braveheart Rauf Ahmad Dar. He saved the tourists from his capsized raft but lost his own life in the process. May Allah grant him the highest place in Jannat. https://t.co/VYUd4nTrzz

— Omar Abdullah (@OmarAbdullah) June 1, 2019
Top News
His letter to the council's 15 members on Wednesday says Gaz...
The swearing-in ceremony of the 56-year-old leader would be ...
The 71-year-old will replace Richard Sharp
HM blames Nehru's 'blunders' for Kashmir's sufferings | Oppo...
One of these will vest Guv's Chancellor role with Chief Min...