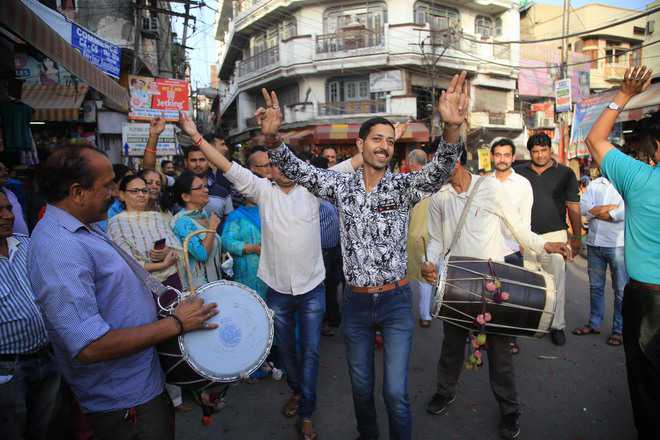 Sumit Hakhoo
Tribune News Service
Jammu, June 19
As the BJP central leadership decided to pull out from the coalition government with the PDP, displaced Pandits on Tuesday said the step was long overdue keeping in view the situation in the state.
Representative groups of 3.50 lakh Pandits, who are living as refugees in camps of Jammu, said the BJP-led government in New Delhi and the PDP-BJP coalition in J&K had sidelined the community and delinked it from "peace initiatives".
"It is a welcome step. Under the coalition's term, the administrative apparatus was used to strengthen the separatist cause in the past three years. The ruling parties turned the plight of Pandits into a non-issue. There was a total neglect of the nationalist constituency in J&K," said Ajay Chrangoo, chairman, Panun Kashmir, one of the frontal organisations of the Pandits. In 2015, when the BJP formed its first-ever coalition government in the state, there was much enthusiasm among displaced people that their issues would be resolved. They also felt that the employment and rehabilitation package announced in 2008 would be implemented properly.
However, there were several U-turns, starting with abandoning of the project to construct a composite township in the Valley under the pressure of separatists and threats from militant groups.
"The BJP didn't anticipate how the coalition would be run in J&K. It is also failed to come up with a concrete policy to deal with the complexities of the situation in the state," said Sanjay Tikku, president, Kashmiri Pandit Sangharsh Samiti, a group of non-migrant Pandits living in the Valley.
Top News
PM Modi calls for maintaining balance between mitigation and...
The decision amounts to creating a parallel jurisdiction, ta...
No suspicious objects have been found yet, say police
During today's games, a generator would be required to power...
'In Punjab, Rs 11 is considered a 'shagun', so I am announci...