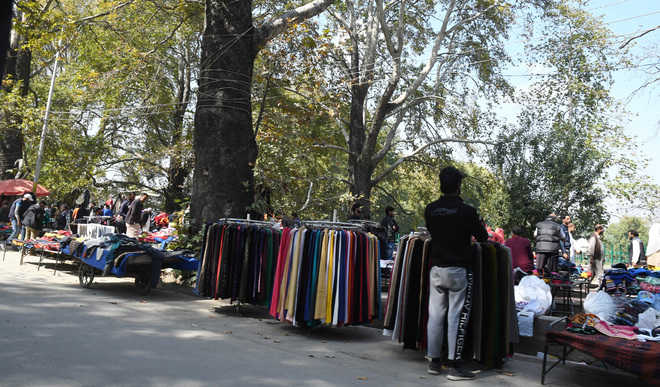 Aamir Khan
Tribune News Service
Srinagar, October 9
Even as normal business activities are yet to resume in the Kashmir valley, city's popular 'Sunday market' has turned into an all-week bazaar.
Though the flea market would open on Sunday right from the TRC Ground to Lal Chowk, these days, stalls are mostly set up opposite the Sher-e-Kashmir Park which is close to the IG Traffic Police office and CID Headquarters.
However, hawkers at the flea market complain that lesser than usual number of people come for shopping due to unavailability of public transport and shutdown elsewhere. These days, the market mostly has put on sale woolens, jackets and similar goods ahead of the winter months.
"Usually, we open only on Sundays but due to little traffic, we put up our stalls on weekdays too. Normally, we would do brisk business ahead of the winter as people used to buy woolens, jackets, blankets, etc. However, despite remaining open throughout the week, lesser than usual people come here," said Feroz, a roadside vendor at the flea market.
"Our market would attract customers not just from Srinagar, but from across Kashmir. Even tourists would come here. Unfortunately, public transport is off the roads since August 5 and I think that is why people cannot come here," he added.
Parvez Dar, a customer, said he was surprised to see the market open on a weekday. "I had come here by chance and was surprised to see the market open. I think people are not aware that the market is open throughout the week. I think the news of the market remaining open would have travelled far had there been mobile service. Since markets open only in the mornings these days at most places and remain shut during the day, people think the flea market remains open only on Sundays like before," he said.