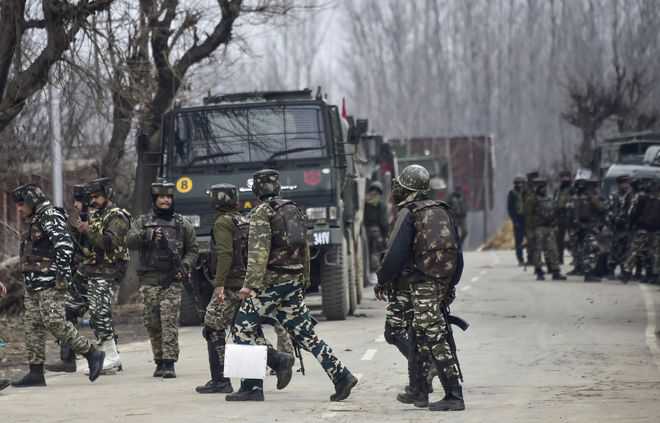 Majid Jahangir & Suhail A Shah
Tribune News Service
Srinagar/Pulwama, February 18
Four days after the suicide bombing that killed 40 CRPF personnel, security forces dealt a major blow to Jaish-e-Mohammad (JeM) when they gunned down three of its top commanders in a fierce gun battle in Pulwama district.
Five security personnel, including a Major, were killed while seven others, including a Brigadier, Deputy Inspector General of Police and a Lieutenant Colonel, were injured in the 18-hour-long gunfight. A civilian too died during the encounter.
The police say one of the killed Jaish commanders, Kamran, a Pakistani national, was heading the outfit in Kashmir and his role in Thursday's suicide bombing was being probed.
The gunfight broke out at 12.45 am at populated Pinglena village when joint teams of forces were preparing for a search operation following an input about the presence of Jaish militants in the area. As the cordon was being laid, the Quick Action Team of the Army came under intense fire resulting in injuries to five soldiers, including the Major who was leading the team.
"The officer and three other jawans later succumbed to their injuries," a defence official said. The four slain soldiers are Major Vibhuti Shankar Dhoundiyal, 33, of Dehradun, Uttarakhand; Havildar Sheo Ram, 36, of Jhunjhunu, Rajasthan; Sepoy Hari Singh, 26, of Rewari, Haryana and Sepoy Ajay Kumar, 27, of Meerut, Uttar Pradesh. Later, a policeman, Head Constable Abdul Rasheed, was also killed.
The killed civilian was identified as Mushtaq Ahmed. The forces engaged the militants who were shuttling from one house to another and killed two of them. When the security forces tried to close in on the third, he fired burst injuring three officers. He was cornered towards the evening and killed after the forces launched the final assault.
"It was his firing that left a policeman dead and six others, including Brigadier, 12 Sector Rashtriya Rifles, Harbir Singh, DIG (south Kashmir) Amit Kumar and a Lt Col injured," a police official said.
Vijay Kumar, adviser to J&K Governor, said two of the slain militants were Pakistani nationals. "Kamran and a local militant, Hilal, were killed. The identity of the third is being verified, though initially probe suggests he is Rashid Bahi alias Gazi Umar, also a Pakistani," he said.
Police said Kamran had taken over as operational commander of JeM after his predecessor Mufti Waqas was killed in an encounter in February last year.
J&K DGP Dilbag Singh the slain militants had a role in the recent terror bombing. "Details are awaited, but there are fair indications the trio was in one way or the other involved in the attack," Singh said. The DGP said he had nothing to say about Kamran being an Afghan war veteran.
However, senior security officials in Srinagar suspect that Kamran was involved in planning the terror attack. "For sure, he has some role in the attack as Adil (suicide bomber) was part of his module," said the police officer.
Soon after the suicide bombing, security agencies had formed multiple teams to track the Jaish members who were involved in planning the attack. A senior police official from Pulwama said many over-ground workers of militants were rounded up. "The questioning of those detained led us to Pinglena village where the militants were hiding," he said.
Plea in SC seeking judicial probe into Uri, Pulwama terror attacks
New Delhi: A lawyer has moved the Supreme Court seeking a judicial probe into Uri and Pulwama terror attacks. While 19 soldiers had died in the September 18, 2016, Uri attack, 40 CRPF men lost their lives in the Pulwama attack. Advocate Vineet Dhanda has sought a freeze on bank accounts of Hurriyat and its leaders, besides an action taken report by government. TNS
Top News
In January 2023, Army Day Parade was conducted in Bengaluru
Based in Canada, he's brain behind 'Khalistan referendum'
Flags country's 'abysmal' human rights record