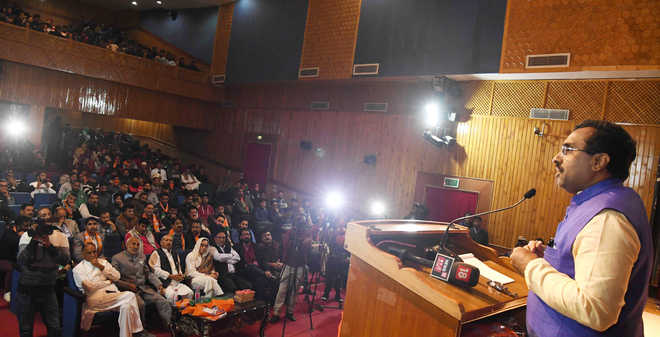 M Aamir Khan
Tribune News Service
Srinagar, October 20
Dropping clear hints that there would be no reprieve for the detained leadership of regional parties in the near future, BJP national general secretary Ram Madhav today said there were 'many jails' in the country for those coming in the way of J&K's peace and development.
Madhav, who was on his first visit here after the abrogation of Article 370, maintained that the political leaders would only be allowed to do 'routine politics' such as seeking the restoration of statehood to J&K.
"There are many jails in India for those coming in the way of peace and development. If they want to do routine politics, let them do it. If you have to restore statehood, do politics. We, too, want the restoration of statehood. Let us come forward in making 'naya' (new) Kashmir that will be about peace and development," Madhav said, while addressing a programme 'Jashn-e-Kashmir' organised by the BJP youth wing here at the Tagore Hall.
Hitting out at the detained leaders of the National Conference (NC) and People's Democratic Party (PDP), Madhav said those detained in the wake of abrogation of Article 370 would continue to remain behind the bars for the next two to three months.
"For the path towards peace, if 200 to 300 people have to be kept behind bars for two to three months, let it be. Sometimes in Delhi we question in our heart, if 200 to 300 people are in detention and the region is at peace, maybe it is beneficial. Leaders of two parties (NC and PDP) are in detention and the region is peaceful. Who was inciting violence?" he asked.
Madhav claimed that Article 370, which granted special status to the state, had been revoked for the benefit of people and not for any political benefits. He said people should tell local leaders to sacrifice first before asking them to do the same. "They are under arrest, but they are sending messages of lifting gun and giving qurbani (sacrifice). Tell your 'netas' - first you give qurbani....they are paper tigers. I know how much courage they have. One phone call makes them shiver," said Madhav, adding that they had to 'run away' from the coalition partner PDP due to their 'politics of separatism' and corruption.
He said the BJP wanted the emergence of new leadership, urging people not to pay heed to rumours that abrogation of Article 370 will lead to loss of jobs or land. "Care will be taken that no harm comes to Jammu and Kashmir's culture, tradition, jobs, education. It is the time of celebration," he said.
Madhav said people would come to know about the benefits of Article 370 abrogation in five years.