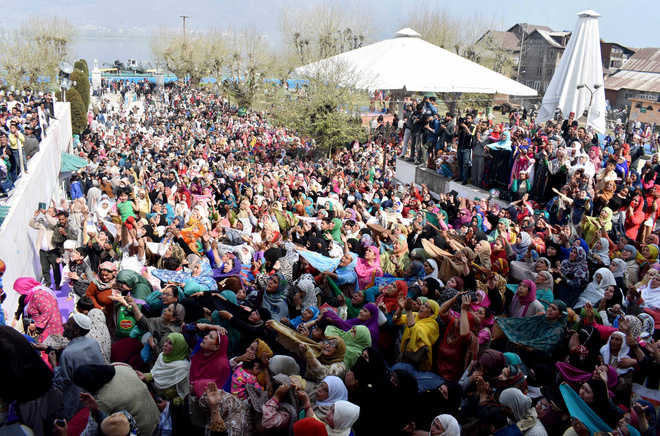 Tribune News Service
Srinagar, April 4
Meraj-ul-Alam was observed with religious fervour across the Kashmir valley on Thursday.
While gatherings were witnessed at several mosques and shrines from Wednesday night itself, devotees thronged the Hazratbal shrine on the banks of the Dal Lake throughout Thursday for prayers, supplications and to catch a glimpse of the holy relic of Prophet Mohammad.
"Shab khwani" (nightlong prayers) were held in several mosques. "A large number of people remained engrossed in 'shab khwani' from Wednesday night till 'fajr' (pre-dawn) prayers. More people joined to offer the 'fajr' prayers and to catch a glimpse of the holy relic," said a caretaker of the Hazratbal shrine.
Pertinently, Meraj-ul-Alam is observed a day after Shab-e-Meraj (night of ascent) on 27th Rajab month of the Islamic lunar calendar. Muslims believe that Prophet Mohammad ascended to the highest levels of heaven on this night.
Srinagar Municipal Corporation (SMC) commissioner Mir Tariq Ali along with other senior officers visited the Hazratbal shrine to review arrangements. The SMC set up a camp and deputed mobile toilet vans for the convenience of devotees.
---
'Charri yatra' taken out at Purmandal
Jammu: The 25th annual holy "Charri yatra" was taken out from the ancient Shiv temple at Purmandal on the occasion of 'Chetra Krishan Chaturdarshi'. Special prayers were performed at Shri Ranbireshwar temple here. Kumar Ranvijay Singh, Gulchain Singh Charak, Dr Sat Pal, Mahant Rishiban and office-bearers of Dharmarth Trust and many devotees attended the prayers. TNS
Top News
Prime Minister Narendra Modi and Uttar Pradesh Chief Ministe...
The election if required would be held on October 17, a firs...
Sujoy Lal Thaosen, Anish Dayal Singh appointed new director ...
Capable of supporting ultra-high-speed Internet, the fifth g...
As the govt rolls out the revolutionary 5G service, a look a...