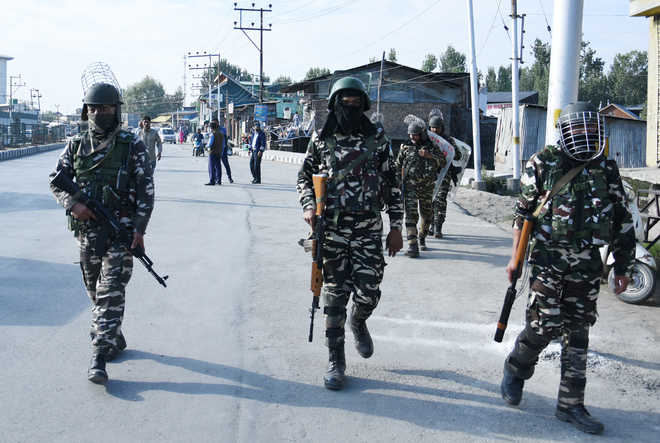 Majid Jahangir
Tribune News Service
Srinagar, October 15
For the second time in less than a month, the police have been caught off guard while militants stole rifles from under their nose.
On Sunday night, militants stole two carbines of the two personal security officers (PSOs) deployed at the residence of retired Senior Superintendent of Police Sheikh Ghulam Mohammad in central Kashmir's Budgam district. The two PSOs were not present at the house and had kept the weapons in a locked box.
While the pictures of the two carbines surfaced on the social media, claiming that the Jaish-e-Mohammed had looted the weapons, the police said they were investigating which group was involved in the incident.
"So far, the claim is on the social media. We are looking into it (Jaish claim) and all other angles," said Vidhi Kumar Birdhi, Deputy Inspector General (DIG) of Police, central Kashmir.
"We have found that the back door entry to the residence of the retired officer was open which has raised our suspicions. We will also be questioning the private employees working at the house," the DIG said, adding that strict action would be taken against the policemen for "dereliction of duty".
Apart from the two Personal Security Officers, there were four policemen to guard the residence of the Senior Superintendent of Police at Gopalpora, Chadoora. Of them, two were absent.
"As the militant barged into the house, they were looking for the weapons of the two police guards present there. When the policemen told the militants that they had no arms, they were thrashed. The militants found a locked box in which the two Personal Security Officers had kept their weapons and decamped with them," a police officer said. "After the militants fled, they fired gunshots from a distance," he said.
This is the second time that militants have managed to steal weapons in central Kashmir inless than a month.
On September 28, Special Police Officer Adil Bashir fled with seven rifles and a pistol from Peoples Democratic Party MLA Aijaz Mir's government residence in Srinagar.
This year, militants have stolen 18 weapons in Srinagar and neighbouring Budgam district.
---
18 rifles stolen this year
On Sunday night, militants stole two carbines of the two personal security officers deployed at the residence of retired SSP Sheikh Ghulam Mohammad in central Kashmir's Budgam district
On September 28, Special Police Officer Adil Bashir fled with seven rifles and a pistol from PDP MLA Aijaz Mir's government residence in Srinagar
This year, militants have stolen 18 weapons in Srinagar and neighbouring Budgam district