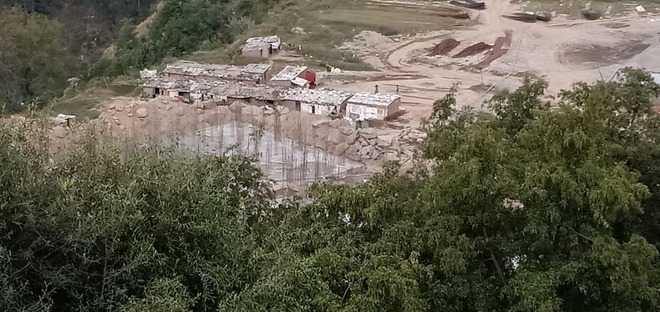 Amir Karim Tantray
Tribune News Service
Jammu, October 19
Marred by the slow pace of construction work and recruitment process, five medical colleges allotted to the state are yet to become functional.
Even as 56 months have passed since the previous UPA-II government sanctioned five new medical colleges for Jammu and Kashmir, none of these colleges are in a position to start classes.
In February 2014, the Union Health and Family Welfare Ministry, led by Ghulam Nabi Azad, had allotted these colleges to Jammu and Kashmir
In the first two years, the state government was stuck in the land acquisition process and the foundation stones of three out of five colleges in Anantnag, Baramulla and Rajouri were laid jointly by Union Health Minister JP Nadda and former Chief Minister Mehbooba Mufti on May 15, 2016. The foundation stones of other two medical colleges in Doda and Kathua were laid by them on June 10, 2017.
Since then, construction work is going at a snail's pace and according to officials, the buildings of none of these colleges will be ready before December 2020.
"We have made makeshift arrangements in a building at Old District Hospital, Doda, to start the classes. Once the batches are allotted to us, which will happen in a few months, this building will host the students till the new campus is ready," Dr Tariq Azad, principal, GMC-Doda, told The Tribune.
Similar is the story of other colleges, where new campuses are incomplete and makeshift arrangements have been made. "We are hopeful of getting the first batch next year," claimed principals of the Rajouri and Kathua medical colleges.
Though the principals, who are also acting as nodal officers, are hopeful of getting a batch of 100 students each in every college next year after inspection by a Central team, they may not get the standard declaration forms in the absence of staff and faculty and chances of starting the classes are bleak.
None of these colleges has faculty yet, as the J&K Public Service Commission is still in the process of recruiting people for gazetted posts like assistant professors.
"We are expected to complete the recruitment process of 335 posts for these medical colleges by December 15," said Latief-uz-Zaman Deva, chairman, J&K Public Service Commission.
For non-gazetted posts, the J&K Services Selection Board is yet to get number of posts from the health and medical education department for recruitment.
"Earlier, we had around 1,600 posts for recruitment from the health and medical education department, but those were without concurrence from the finance department. We had to return to these posts after communication from the finance department. Now, we are waiting for the new posts to be given for recruitment," said a senior J&K Services Selection Board officer.
All these medical colleges will be associated with the district hospitals, but these hospitals lack infrastructure in terms of equipment and machinery. They will be getting budget from the Centre to buy equipment required for the functioning of laboratories and other departments, but so far, this process hasn't been initiated.
Delayed projects
In February 2014, the Union Health and Family Welfare Ministry, led by Ghulam Nabi Azad, had allotted five medical colleges to J&K
The foundation stones of three out of five colleges in Anantnag, Baramulla and Rajouri were laid jointly by Union Health Minister JP Nadda and former Chief Minister Mehbooba Mufti on May 15, 2016. The foundation stones of other two medical colleges in Doda and Kathua were laid by them on June 10, 2017
Since then, construction work is going at a snail's pace and according to officials, the buildings of none of these colleges will be ready before December 2020