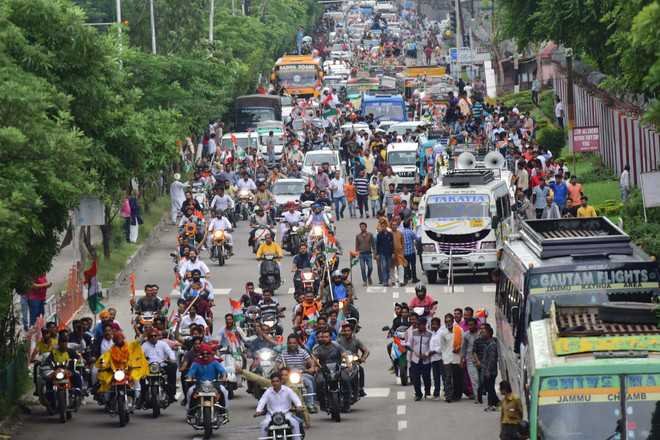 Tribune News Service
Jammu, September 23
Functions and processions were held in Jammu to pay tributes to the last Dogra ruler Maharaja Hari Singh on his 124th birth anniversary on Sunday.
The Dogra Swabhiman Sangathan, Yuva Rajput Sabha and the Dogra Sadar Sabha observed the day.
Chairman, Dogra Swabhiman Sangathan, Choudhary Lal Singh vowed to restore the dignity and honour of the ethnic Dogra minority of the state. The former minister said the campaign launched by his organisation would be taken to its logical conclusion.
Addressing a function, Lal Singh said the successive state governments had failed to declare a state holiday on the birth anniversary of the last ruler from the Dogra dynasty who had introduced many reforms in the state.
"Since 1947, the successive state governments, headed by Kashmir-centric parties, were systemically demonising the Dogra minority to extend the separatist agenda in this region also," he added.
Lal Singh said instead of recognising the revolutionary decisions of Hari Singh, a systematic, vicious campaign was launched to degrade him.
"Maharaja Hari Singh is the victim of a vicious campaign launched by some people since 1947," he said, adding, "Now the younger generation of the Dogras has decided to restore the dignity and honour of the late Maharaja."
Earlier, a rally, led by Lal Singh, was taken out from Satwari Chowk which passed through various areas of city before culminating at Hari Palace. Braving a downpour, thousands of people from various parts of the Jammu province attended the rally.
The Yuva Rajput Sabha also took out a procession in Jammu city to observe the birth anniversary of Maharaja Hari Singh. Wrestler Dalip Singh Rana, popularly known as The Great Khali, was the main attraction in the rally.
Meanwhile, the Dogra Sadar Sabha also observed the birth anniversary of Maharaja Hari Singh. Sabha president Gulchain Singh Charak paid floral tributes to the Maharaja.
Gulchain Singh said it was sad that even after a resolution was passed by the Legislative Council, the popular public demand for a holiday on Hari Singh's birth anniversary had been overlooked and declined by the government.
Rain fails to play spoilsport
Even as the rains tried to spoil the Dogra Swabhiman Sangathan rally taken out on Sunday to observe the birth anniversary of Maharaja Hari Singh, it could not deter enthusiastic participants from all nooks and corners of Jammu province from attending it. The organisers feared that the rally would turn out to be a flop show, but with thousands of people reaching the different venues, it turned out to be a success. Jammu presented a festive look as slogans of "Jai Duggar, Jai Dogra" rented in the air.
Top News
Based in Canada, he's brain behind 'Khalistan referendum'
Flags country's 'abysmal' human rights record