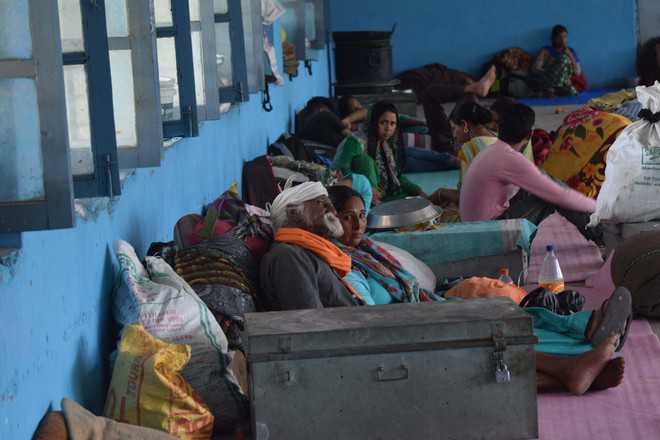 Amir Karim Tantray
Tribune News Service
Nowshera, December 3
The strained relation between India and Pakistan has not only led to a breakdown in the dialogue process at the diplomatic and political levels, but has also majorly impacted people living close to the Line of Control (LoC) as they remain under the constant threat of cross-border shelling and firing.
The verbal duels between New Delhi and Islamabad are followed by mortar shelling and firing on the LoC.
Border dwellers face the brunt of the worsening diplomatic and political relations between the two countries, but they have no option other than to stay in their villages as their livelihood depends on farming and rearing cattle. Villagers have to face losses every time the Pakistan army targets their areas. People and livestock get killed and crops are damaged.
Rajouri district, which shares a volatile 120-km-long LoC with Pakistan-occupied Kashmir, has been witnessing intermittent firing and shelling by the Pakistan army.
At present, around 70,000 people, living within a 5-km radius from the Zero Line on the LoC, are living a nomadic life as firing by Pakistan often forces them to leave their houses and move to safer places.
Border residents are facing the wrath of the diplomatic and political war between India and Pakistan over Jammu and Kashmir, which is one of the longest and simmering border disputes.
As India claims Pakistan has illegal control over its occupied part of Kashmir called PoK (Pakistan calls it Azad Kashmir), Pakistan has a similar view on Jammu and Kashmir, under the administrative control of India.
The life of border people depends on the mercy of the armies of both countries. For them life is full of challenges, fear and hope; challenge of escaping death when it is raining mortars, fear of losing life and source of livelihood and hope of a new beginning every time India and Pakistan agree to address issues through dialogue.
Even a small flag meeting between the two armies revives the hope of border residents for they believe it will bring respite from firing, even if it is for a few days.
"We don't aspire to be millionaires. Our children don't aspire to be KAS or IAS officers. Our girls and women don't aspire to follow the fashion of cities. All we want is a peaceful life without the threat of firing or shelling," said Muhammad Bashir, lambardar of Morha Kampla village near the LoC in Rajouri.
In Rajouri, which is mostly a hilly district, the Indian Army has occupied areas strategically important to defeat the nefarious design of Pakistan. The Pakistan army is also at an advantage at some places and hence targets Indian Army posts and civilian areas easily. The Nowshera, Manjakote and Sunderbani sectors witness intermittent shelling by Pakistan. Since May 10 this year, around 4,000 people from Jhangar and adjoining villages in Nowshera are living in relief camps in and around Nowshera town and are shuttling between their homes and relief camps.
"Our life has become a hell since we left our homes in May when shelling began. We tried to go back home but every time firing displaced us. We have been left with no option but to stay put in relief camps and live in a miserable condition," claimed Parshottam Lal, sarpanch of Jhangar village.
To put an end to their miseries, shelling-hit people have been demanding construction of bunkers, five-marla plots at safer places, compensation for the loss suffered, better health facilities, quality education, concession in government jobs and on-the-spot recruitment in belt forces.
"We have been promised that bunkers will be constructed for us and we have been told that the process has started but there is no guarantee of other demands. One of our main demands is monthly cash relief, which if given, will help us to streamline our lives," Lal said.
At the LoC, people have to rely on farming or jobs in belt forces, including the Army, to earn their livelihood.
"Our crop gets damaged in shelling. At times, we are not able to sow and harvest on time," said Muhammad Bashir, a border villager.
The health facilities are also poor as one sub-centre covers over half a dozen villages and each one of them is manned by a pharmacist or medical assistant. The emergency cases have to be shifted to District Hospital, Rajouri.
The education sector has also suffered. Schools have to close every now and then because of firing and shelling. In the Nowshera sector, some schools are being run in relief camps as schools in danger zones remain shut.
On July 18 this year, 219 students and staff of a school in Nowshera were trapped after Pakistan shelled the area. They were rescued in mobile police bunkers. Meanwhile, the civil administration is constructing bunkers along the LoC and trying to address issues of residents.
"We have constructed 20 bunkers and handed them over to people. Twenty more bunkers will be ready by mid-December. We have a target of 100 bunkers in the first phase. They will help in saving lives on the LoC," said Abdul Qayoom Mir, Assistant Commissioner (defence), Rajouri.
About Rajouri
Total population 6,42,415
Total length of LoC 120 km
Villages on the LoC 64
LoC population 69,826
Top News
Asks not to spread fake news amid reports of her distancing ...
'US-India partnership is a cornerstone for a free and open I...
Rehana Fathima, a woman's right activist, was facing charges...
On August 3, 1991, Congress leader and brother of former MLA...
Injured admitted to hospital in Imphal where their condition...