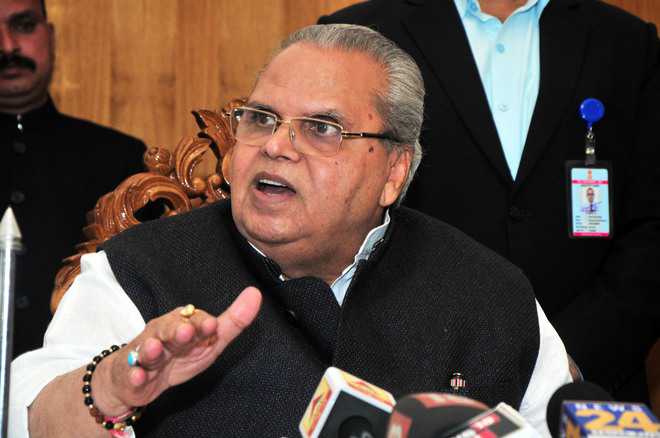 Tribune News Service
Jammu, September 14
A day after Pakistan Prime Minister Imran Khan asked the Pakistan Occupied Kashmir (PoK) people to wait for his call to cross the Line of Control (LoC) towards the Indian side, Jammu and Kashmir Governor Satya Pal Malik said the PoK people would not come to J&K on his call, but would demand integration with India after witnessing the high level of development here.
"The people of PoK will not come to J&K on your call, but will come here when they will see this state as an example of development under the rule of the Narendra Modi-led government in India," Malik said.
He was speaking on the occasion of the e-foundation laying ceremony of a cancer institute in Jammu and e-inauguration of 196 health and wellness centres across J&K at a function held at the convention centre on Saturday evening.
"If we are able to achieve the high standard of development, the people in the PoK would cross the LoC and demand integration with India," he added.
Earlier in the day, the Governor while inaugurating Government Medical College (GMC), Kathua, said that he had done more work in the last one year than any elected government could do.
Malik also claimed that he had managed to change the image of the gubernatorial post which, in public's view, does nothing for the public but only provides rest to the post occupant during his/her tenure.
"In the eyes of the country, the Governor is a person who plays golf and does nothing for the public. He/she just rests during governorship. But with the amount of work that we've done in the last one year, I think even an elected government can't match us," Malik said.
The Governor also blamed the Kashmir-based political class for deliberately delaying the start of the prestigious Shahpur Kandi project on the Ravi, saying "They did not allow the execution of the agreement with Punjab because they had soft corner towards Pakistan."
"After the completion of the Shahpur Kandi project, a collaboration of the J&K and Punjab governments, we will be able to stop the flow of water towards Pakistan. Earlier, we were unable to stop water entering Pakistan as the Shahpur Kandi project could not get nod due to the soft corner of the Kashmiri leadership towards Pakistan," Malik said.
"We cleared all hurdles within 30 minute for starting this historical project which had been delayed for the last 40 years," he said.
The Governor also released the policy document on the roadmap for reducing the infant mortality rate (IMR) to single digit by 2022 in the state.
The people of PoK will not come to J&K on your call, but will come here when they will see this state as an example of development under the rule of the Narendra Modi-led government in India. —Satya Pal Malik, Governor
Top Stories