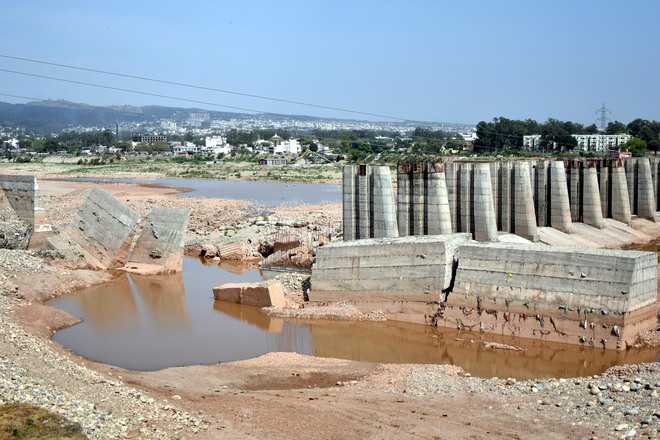 Arteev Sharma
Tribune News Service
Jammu, April 26
The much-talked about artificial lake in the winter capital of the state is turning out to be "never-ending" venture as the Irrigation and Flood Control (I&FC) Department has set December 2018 as the fresh deadline for the completion of a barrage on the Tawi.
If the authorities are to be believed, the barrage construction is just one of the components of the project and the work on other components, including bank protection, development of the riverfront on the pattern of the Sabarmati, implementation of flood control action plan and diversion of nullahs will begin only after the completion of the barrage.
What is ironical is that the ruling PDP-BJP government had claimed in the Legislature that the work on the artificial lake was in progress and it was targeted to be completed by the end of March. The project was conceived to make Jammu an "independent tourist destination."
Pertinently, the work was launched in 2010 and it was scheduled to be completed in 2013. The state government has spent Rs 58 croreand it claimed that about 90 per cent work has been completed on the project.
KK Magotra, Chief Engineer, Irrigation and Flood Control Department, said, "We have completed 90 per cent of the work on the barrage. The gate launching on the Badi Tawi side has been completed, while the gate launching on the Chhoti Tawi side is yet to be completed. The Hyderabad-based GVR Infra Project Ltd, which was entrusted with execution of the project, had stopped its work in February this year following a financial crunch," he said.
Magotra added, "A meeting of the contract committee is likely to be held in next couple of days where the contract executed with GVR Infra will be terminated. For the remaining work, we will wait for the Cabinet's approval after which we will float fresh tenders. Our working season ends in June and working activity will resume after September 15. We are hopeful of getting the Cabinet nod by that time."
The Chief Engineer said the tenders would be floated and the process would be completed within 21 days. "Thereafter, we will require at least one and half a months to complete the remaining work on launching of gates on the Chhoti Tawi side," he said.
To a query whether the government would fix the responsibility of GVR Infra for abandoning and delaying the project, he said the department could go to any extent, including confiscation of machinery and forfeiting the bank guarantee and corporate debt restructuring. "We (government) have nothing to lose. Instead, we are in a position of gaining Rs 10 crore out of this exercise," he claimed.
The work on the project was abandoned about two and a half years back.
Top Stories