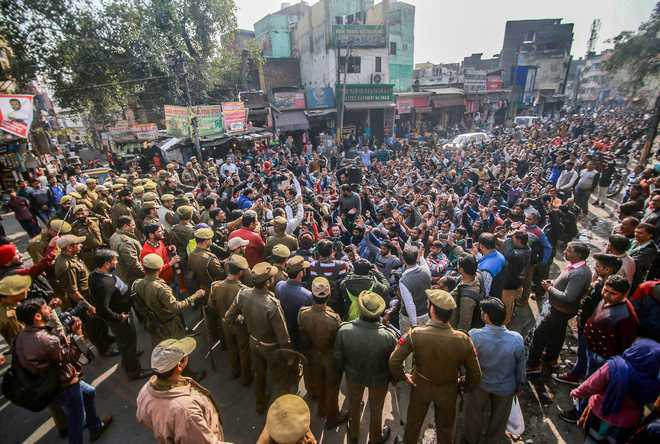 Tribune News Service
Jammu, December 3
Intensifying protest against the state administration, the daily earners of the public health engineering (PHE) department on Monday tried to march towards the civil secretariat in order to raise their demands with the Governor's Advisers. However, the police foiled their march.
As many as 32,000 daily earners are demanding regular salaries and regularisation of services. Hundreds of protesters drawn from different districts of the Jammu division started their march from the Chief Engineer's Office on BC Road.
When the protesters were moving towards the civil secretariat, the police stopped them at Indira Chowk.
"It is second time in past few weeks that we have been stopped from meeting senior officers. What is our crime, we are only seeking our pending salaries to feed our families," said Joginder Pal, one of the protesters.
In other districts also, workers' unions held demonstrations outside the PHE offices.
"For years, daily earners have been deprived of their dignity. There are persons who have been working in the department for 25 years and are on the verge of retirement but they have not been regularised. This is unjustified," said Tanvir Hussain, president, All J&K PHE, ITI Trained and CP Workers Association.
Later, when the police tied to clear the road, protesters refused to move. Senior officers reached the spot and initiated talks with union members.
They assured them that the administration was considering taking up their problems during the upcoming Budget discussion and the union should suspend the strike till December 10.
Top News
Resolution gets the backing of 13 Council members, while the...
The written answer to unstarred question number 980, uploade...
Punjab Police tell Punjab and Haryana High Court that the in...
Move comes day after Ali walked out of Lok Sabha proceedings...
The tax department has deployed about 40 large and small mac...