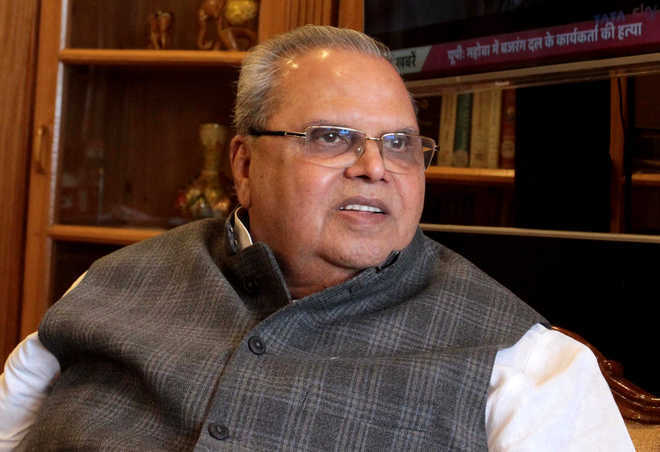 Jammu/Kathua, October 14
With mobile services restored in the Kashmir valley, Jammu and Kashmir Governor Satya Pal Malik yet again defended the communication blockade, saying "the safety of the common man is more important than telephone services".
"We stopped mobile services because terrorists used it for their activities. For us, the life of a Kashmiri is more important than cellphones. We have been able to save several lives (since revocation of Article 370)," he said at a function in Kathua.
The Governor said now that normalcy had returned and tourists had started to arrive in Kashmir, Internet services would also be restored soon. Announcing that his administration was working on a proposal to enhance compensation for the next of kin of police officials killed in the line of duty up to Rs 1 crore, he said: "The matter was taken up with then Union Home Minister Rajnath Singh. It was requested that the Centre's share be hiked by Rs 25 lakh and that the state would contribute likewise. But this could not be achieved because of bureaucratic issues. It is my wish to enhance this amount to Rs 1 crore and this will be done before I leave J&K," Malik told police personnel at Kathua. On September 25 last year, J&K had hiked ex gratia to Rs 70 lakh from Rs 48 lakh for police officers and from Rs 14.50 lakh to Rs 30 lakh for Special Police Officers (SPOs).
"We will stand by our policemen," Malik said. — TNS
---
Driver killed in Shopian, truck set ablaze
Anantnag: A driver was killed as miscreants set ablaze a truck carrying apples in Shopian district, the police said. The truck, with a Rajasthan-registration number, was set ablaze on way to Jammu. The body was found inside the truck. OC
Top Stories