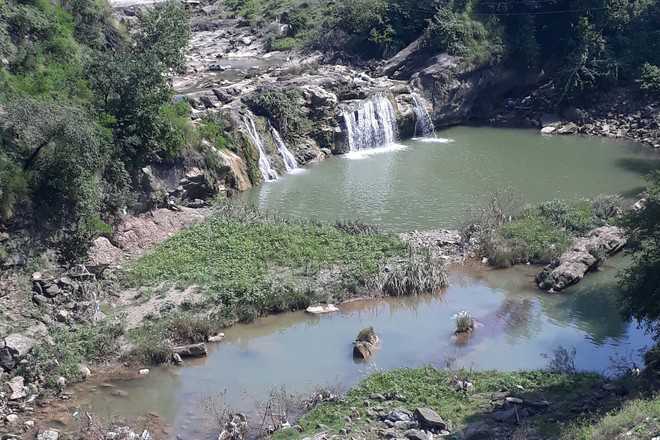 Sumit Hakhoo
Tribune News Service
Jammu, October 21
Increased footprints of tourists are filling the pristine perennial streams flowing through Shivaliks with plastic waste as footfall of picnickers and adventure seekers are searching for untouched areas in Jammu and Kashmir.
Plastic, polythene and non-biodegradable waste now dot once sparkling streams and sub-surface water sources in Himalayas and Shivaliks as the Tourism Department is promoting virgin spots to attract more tourists in the state.
At popular tourist destination, which is religiously and culturally important, Baba Siyad, one of the highest waterfall in north India, Baba Dhansar in Reasi district, plastic waste makes up a large proportion of debris with single use plastics such as food wrappers and polythene bags being large part of the garbage.
Even Ban Ganga, a holy river flowing through the holy town of Katra, has turned into a garbage dump. Other water bodies like Mansar and Surinsar Lake too are slowly being polluted by the plastic waste. "Lack of civic sense and failure of the authorities, especially the Tourism Department, which manages picnic spots, for properly disposing of and lifting the waste is a major problem. There is no mechanism in place to dispose of the waste scientifically. At yhe panchayat-level, committees should be constituted to prevent pollution", said Neha Uttam, an environmentalist who heads NGO Disha.
According to studies, surface and sub-surface water in South of Pir Panjal, especially Reasi, Udhampur, Samba, Kathua and Rajouri covered by the Shivalik, sub-Himalayan mountains are under greater threat than Kashmir valley due to scale changes in land use.
"Visitors travelling in search of peace are slowly destroying the ecology in Shivaliks. During rains, the entire waste is dumped in Chenab, Tawi and other river systems", said Anil Sharma, a social activist. However, none of the officials from the Tourism Department was available for comment.
Top News
In Mizoram, Zoram People's Movement is locked in close race ...
According to Defence Ministry, 98 per cent of the total proc...
India has constituted a probe team to investigate allegation...
Nikhil Gupta, 52, has been charged with murder-for-hire in c...
GDP growth in the first quarter of current fiscal — April-Ju...