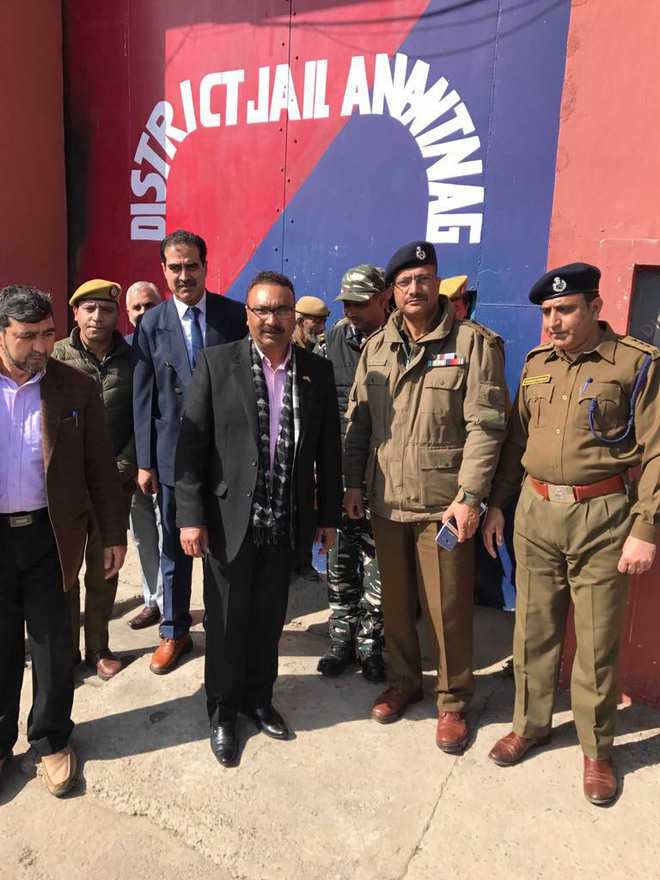 Tribune News Service
Jammu, March 4
Director General of Police (Prisons) Dilbag Singh is clear in his mind that he has to clean out the prison system for that has become a must because of multiple problems. He has already initiated the process to weed out the problems that he could do with the available resources while seeking cooperation of others to stablise the situation in the jails. This he believes would automatically help in improving the overall situation.
He has visited 13 of the 15 jails across the state since he took over on February 9. The two that he is yet to visit are at Leh and Kishtwar.
Dilbag is aware of all problems and has drawn his own roadmap to improve the system so that no prisoner escapes in future and the things stay within the required limits.
Regarding the infrastructure, Dilbag Singh said: "I have sought the acquisition of 200 kanals (25 acres) in Srinagar to shift the Central Jail and I hope that with the help of the civil administration, we would be able to procure the land and meet the infrastructural needs. At the same time, we have started the process to set up special cells where the hardcore militants would be lodged to segregate them from other inmates."
Likewise, he added, 300 kanals (37.5 acres) would be acquired in Jammu to decongest the jails in Jammu city which were also quite old and unable to accommodate the prisoners in separate enclosures.
Regarding the shifting of hardcore militants from Srinagar to other places in the state, the DGP (Prisons) said, "The list has been prepared and about 50 of them have been shifted to Jammu and other places, others are in the process of being shifted. Some of them are real hardcore."
"We have got the list of the hardcore and potentially dangerous militants from various agencies. It is on that basis that the hardcore elements have been selected to save others from the infection of their ideology and actions."
About the resistance of some inmates in being shifted out of Srinagar, he said there were some cases, but they had been dealt with in a persuasive manner.
============
"I have sought the acquisition of 200 kanals in Srinagar to shift the Central Jail and I hope that with the help of the civil administration, we would be able to procure the land and meet the infrastructural needs. At the same time, we have started the process to set up special cells where the hardcore militants would be lodged to segregate them from other inmates." — Dilbag Singh, DGP (Prisons)