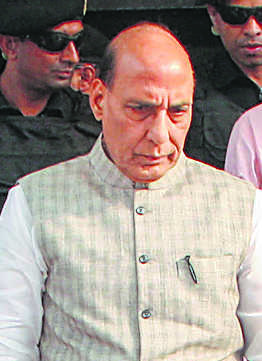 Dinesh Manhotra & Arteev Sharma
Tribune News Service
JAMMU, JUNE 8
Backing security forces confronting violent protests in Kashmir, Union Home Minister Rajnath Singh on Friday said he has taken up the matter of registration of FIRs against them with Chief Minister Mehbooba Mufti.
He was responding to a query on whether the Centre had any plan to withdraw cases filed against security personnel in Kashmir who acted in self-defence, on the pattern of an "amnesty scheme" for stone-pelters. In January, the Jammu and Kashmir Government, on the Centre's recommendation, had granted amnesty to over 9,730 "first-time offenders" involved in stone-throwing incidents between 2008 and 2017 in the Valley.
The Home Minister, who wrapped up his two-day visit to the state, after reaching out to Pakistan shelling- affected border residents in RS Pura area, also said the BJP-led NDA government wants "good relations" with all neighbouring countries, but Pakistan would have to take an initiative for restoration of peace. "It (Pakistan) will have to stop abetting terrorism on its soil," he said.
To a query on whether the border situation will show any sign of improvement, Rajnath said, "I can't say anything but whatever steps are required to be taken will be taken to ensure the safety of border people.
He said the Ramzan ceasefire was announced in Kashmir so that the Muslim community did not face problems during the holy month. "A security review meeting will be held and an appropriate decision with regard to extension of the ceasefire would be taken thereafter," he said.
Asked about the ration and Aadhaar cards accessed by the Rohingya, the Union Home Minister said all the states have been issued an advisory that no identification documents should be issued to the Rohingya so that they don't claim citizenship. "The Rohingya have come from Burma (Myanmar). They should and will have to return to their place."
---
KEY announcements for Jammu and Kashmir
9 new battalions — 2 for youth from border areas, 5 of Indian Reserve Police with 60% posts reserved for border youth and 2 women battalions (one each for Jammu, Kashmir)
Rs 5 lakh for next of kin of those killed in cross-border firing; compensation for loss of each milch animal in border shelling enhanced from Rs 30,000 to Rs 50,000
5 bullet-proof ambulances for border areas
Relief to Kashmiri migrants in Jammu to be hiked to Rs 13,000 per family per month from Rs 10,000 n 13,029 individual and 1,431 community bunkers to be constructed in state's border areas