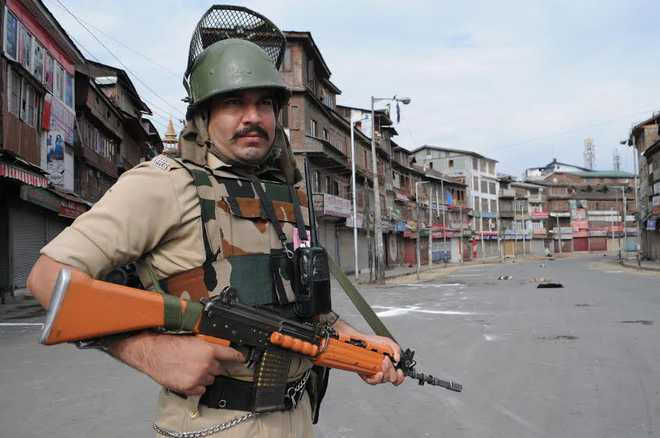 Shyam Sood
Rajouri, March 24
At least 28 persons, including Rajouri Deputy Commissioner Shahid Iqbal Choudhary and a Station House Officer, were injured in violent clashes in Nowshera throughout Saturday following which Internet services in the district were snapped.
The protesters, demanding district status, have been on a strike since more than a month. The Jammu and Kashmir government, in an order issued on March 9, had appointed an Additional Deputy Commissioner (ADC) for Nowshera and Sunderbani sub-divisions on a rotational basis. But Nowshera residents rejected the move.
Teams of BJP ministers and senior bureaucrats held meetings with the people of Nowshera, Kalakot and Sunderbani on Friday after which the order was modified and separate ADCs appointed for the three towns. This failed to placate the protesters, who called it a mere eyewash and yet another deliberate attempt "to befool the people of Nowshera".
Subhash Kapoor, president, Joint Action Committee (JAC), said: "The protesters, who had gathered from every part of Nowshera, unanimously rejected the post of ADC. We decided to discuss the new order with 35 sarpanches and were hopeful of a breakthrough. But the police suddenly swung into action and turned Nowshera town into a battlefield." He alleged at least 30 civilians were injured.
Another JAC member said the action was pre-planned as the administration had on Friday ordered the closure of schools located within a radius of 5 km of the LoC.
A student reportedly lost an eye as the police allegedly fired tear gas shells inside the Emergency Ward.
Top News
Says 2004-2014 was a lost decade but 2030 will be India's de...
UPI soon for all in-bound travellers, coin-vending machines:...
He said the prime minister did not answer the questions he h...
All promotional cases to be kept outside the purview of the ...
Three-member collegium also recommends appointment CJs of hi...