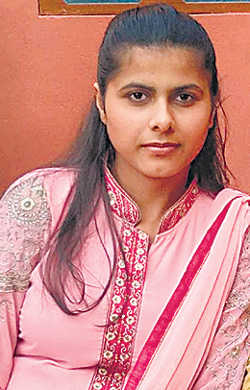 Vishal Jasrotia
Samba, October 26
A dream to meet her all-time favourite superstar Amitabh Bachchan came true for a young girl of Samba, who has made her district proud after being selected for "Kaun Banega Crorepati" (KBC) to be telecast on October 30.
Rukmani Sambyal, who belongs to Kehli Mandi, is a teacher at a private school in Samba. She has made it to the hot seat after clearing the "fastest-finger-first" round in the show. She is apparently the second girl from the state and first from Samba district to make it to the hot seat.
A team from KBC today arrived in Samba to shoot a small documentary of Rukmani's hometown. Jubilant and thrilled over her performance in the show, Rukmani is now eagerly waiting to watch the episode.
Virender Singh Slathia, head of the school, where Rukmani worked as teacher, said Rukmani had already become a celebrity for her students and colleagues, adding that the entire school was proud of her achievement. It was her knowledge and reasoning skills that helped her make it to the KBC, he said.
"It was the happiest moment of my life when my selection was finalised. It was my dream to meet Amitabh Bachchan. I was nervous in front of a great personality like him, but he is a very down to earth and warm person, so I felt easy with him," Rukmani said.
Top News
Was hearing a public interest matter related to the plight o...
'Kyiv is equally critical of any country in the world which ...
Central Asian NSAs speak on drug trafficking rampant in the ...
The move comes ahead of Prime Minister Narendra Modi's visit...
Slain Youth Akali Dal leader Vicky Middukhera's brother Ajay...