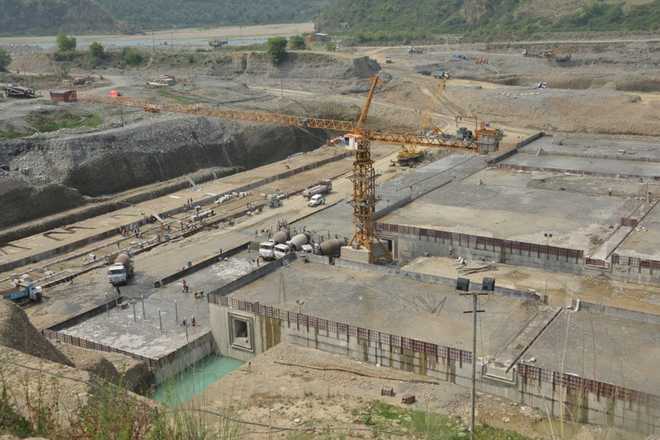 Arteev Sharma
Tribune News Service
Jammu, May 9
The ambitious Shahpur Kandi dam project, proposed to be built on the Ravi, is yet to take off. The J&K and Punjab governments had signed an agreement for its completion more than a year ago.
A senior official associated with the project claimed that no progress had been made on the project.
"The project has remained a non-starter. Even the model of the project has not been finalised. A couple of days ago, a team from Pune visited the site to finalise the model. There is some disagreement over the level of the canal to be built from the project," the official said.
The project was to be implemented by Punjab and its design had to be agreed by both states. The model studies were to be carried out concurrently to ensure J&K gets its mandated share of 1,150 cusecs (as agreed upon in the bilateral agreement in 1979).
The project, to be constructed at an estimated cost of Rs 2,286 crore, will generate about 206 MW. The project comes under the Indus Water Treaty and Punjab has been insisting on its early completion to stop the Ravi waters from flowing into Pakistan.
"Punjab and J&K do not seem serious about completing this prestigious project despite both states having suffered financial losses," the official said.
On March 3, 2017, the J&K and Punjab governments had inked an agreement for the completion of the Shahpur Kandi dam project. The work on the project was abandoned two years ago.
Under the project, J&K had envisaged constructing a canal, to be built with a carrying capacity of 1150 cusecs. On completion, it is expected to change the fortunes of thousands of farmers in the Kandi belt (rainfed areas) in Kathua and Samba districts. Punjab will share with J&K 20 per cent of the total power generated at Thein Dam at the mutually agreed rate of Rs 3.50 per unit.
"Over 1.5 lakh acres in the Kandi area, upstream and downstream along the Jammu-Pathankot national highway in Samba and Kathua districts will get irrigation facility on the implementation of the agreement," said an official of the Ravi Tawi Irrigation Canal Project.
"The farmers of the Kandi belts are the worst sufferers due to non-availability of irrigation facilities," said Ghansham Sharma, president, Border Kisan Welfare Union, Kathua.
Secretary, Irrigation and Flood Control Department, M Raju claimed J&K had given its clearance to the project after the pact was signed. "The delay is not from our side. It is up to Punjab now as and when it starts work on the project," Raju said.