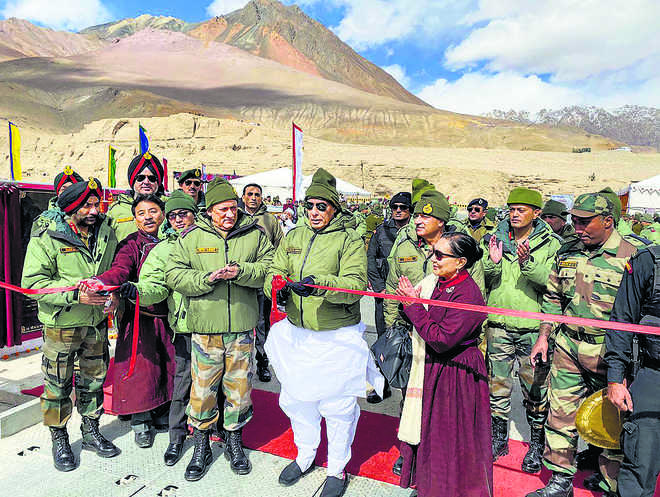 Jammu/Leh, October 21
The Centre today announced that Siachen area, the world's highest battlefield, was now open to tourists, providing a major boost to tourism in the newly created Ladakh UT.
Defence Minister Rajnath Singh, who inaugurated the strategically important Col Chewang Rinchin bridge on Shyok river in eastern Ladakh, said the entire area from Siachen base camp to Kumar Post would be opened for tourism. The bridge site, at an altitude of 14,650 feet, is about 45 km from the China border. "The decision will also provide an opportunity to people to observe the tough work done by Army jawans and engineers in the inhospitable terrain," said Rajnath.
Later, the minister also confirmed it on Twitter: "Ladakh has tremendous tourism potential. Better connectivity will certainly bring tourists in large numbers." He was accompanied among others by Army Chief Gen Bipin Rawat, Northern Army Commander Lt Gen Ranbir Singh and Border Roads DG Lt General Harpal Singh. On face-off between Indian and Chinese troops, he said only "perceptional differences" existed, "which would never be allowed to escalate".
Siachen glacier is at an altitude of 20,000 ft on the eastern Karakoram range in the Himalayas. Soldiers brave frostbite and avalanches in Siachen where temperature can drop up to minus 60 degrees Celsius. — TNS
Bridge in 15 months
The bridge is on 255-km Durbuk-Shyok-Daulat Beg Oldie section of the road between Leh and Karakoram Pass
430-m bridge at a height of 15K ft has been constructed in record 15 mths