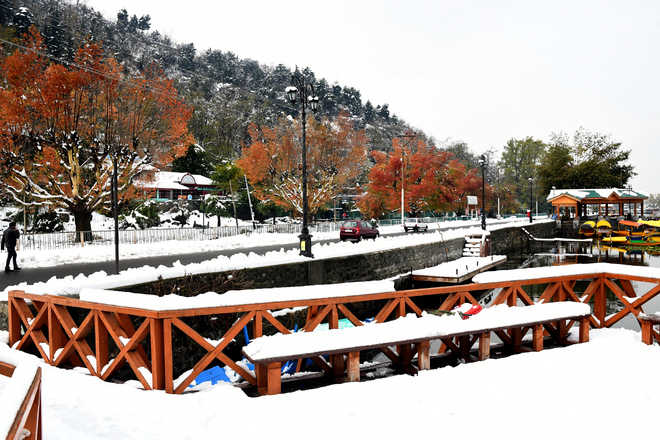 Tribune News Service
Srinagar, November 8
The UT administration of Jammu and Kashmir seems to have failed in providing immediate succour to people of Valley in the wake of season's first snowfall that has brought life to a complete halt.
It has been over 36 hours and the authorities are yet to restore electricity in majority parts of the Valley. While major roads and highways have been cleared of snow, there has been very little snow clearance in the interiors.
The power distribution system was badly hit and many trees were uprooted that affected power distribution in all districts of the valley.
"It seems J&K administration is in deep slumber. The administration doesn't deem it urgent to address the problems of plebeians", remarked Ishfaq Ahmed, a city resident.
Over six snow-related deaths have been reported from various parts in the Valley. The authorities were taken aback despite the Weather Department's advance advisory about the heavy snow.
Sources said it was unlikely for the authorities to restore road connectivity and power supply. Less than five per cent of power supply was restored after the snowfall, the sources said.
Divisional Commissioner Baseer Ahmad Khan expressed satisfaction over the restoration measures. He said 2,500 employees were deployed for clearing the transmission lines damaged by fallen trees. "If all goes well, we should be able to restore 80 per cent of electricity by midnight," Khan told The Tribune.
"Overnight efforts have yielded in a clearance of entire linear road of 1,253 kilometers and about three quarters of 655 kilometers of link roads in Srinagar. Fallen trees have hampered the clearance but all link roads are expected to be cleared soon," Srinagar district administration declared in a tweet.
For the second consecutive day, all incoming and outgoing flights from Srinagar airport were cancelled by the authorities. The 434-km-long Srinagar-Jammu National Highway remained shut for the second consecutive day.
The snow started in the wee hours on Thursday and continued throughout the day.
Last year, Kashmir witnessed heavy to very heavy snowfall on November 2 and 3.