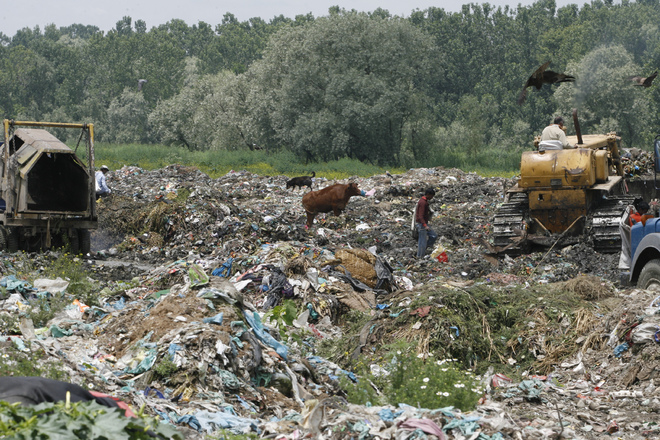 Rifat Mohidin
Srinagar, July 22
The Srinagar Municipal Corporation (SMC) is all set to start the project of scientifically converting its largest dumping site into electricity generation unit by using latest technologies to turn waste into energy.
The Achen locality on the outskirts of Srinagar is being used by the Municipal Corporation as the solid waste dumping site for the past 25 years.
For the past some years, after protests from locals, the government developed Achen as the landfill scientific dumping site. However, now the SMC is planning to convert waste into electricity.
"The project is in the pipeline for the past two years. This waste-to-energy concept is already working well in many parts of India and world so we have also decided to tap the solid waste from of Srinagar and generate electricity which we can provide to some parts of the city," said Sanitation Officer of the SMC Manzoor Ahmad Turray.
The official said this would be the first-of-its-kind project in Jammu and Kashmir. He said the department had sent a detailed project report to the Centre which had been approved and Rs 96 crore issued by the Central government for the project.
"We have issued the tender and called in investors who are interested in taking up this project in Srinagar which will be completed in two years' time. We have already developed Achen as the scientific dumping site but now we want to make it into an energy unit as done in other parts of the world," the official said.
The Srinagar Municipal Corporation (SMC) collects more than 380 metric tonnes (MT) of solid waste every day from 68 wards of the city which is dumped at Achen.
"This project will help us to generate 4-5 megawatts of electricity which can prove helpful for the city and will also save the land," he said.
The projects of turning waste into electricity are already in place in some states of the country like Maharashtra where it has proved successful and is providing clean electricity to its citizens. The concept is slowly being adopted by other states.
Top News
Police say bomb-making literature recovered from hideouts of...
Opposition parties slam CM Eknath Shinde; demand sacking of ...
The survey says Yadavs are the largest in terms of populatio...
The Nobel Peace Prize will be announced Friday and the econo...
Ajmer RPF said necessary action is being taken in this matte...