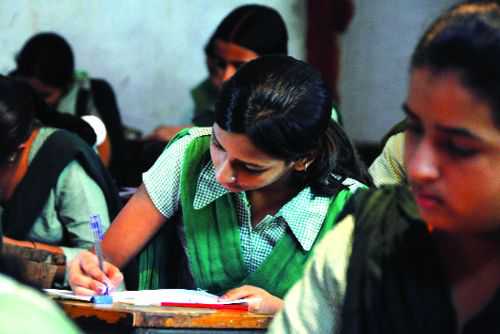 Vikas Sharma
Tribune News Service
Jammu, August 11
In all, 28 private schools of five districts of Jammu division which failed to submit the annual affiliation fee on time have been directed by the J&K Board of School Education (JKBOSE) to submit it in a week.
Sources said the board had directed the in charge officials of the branch offices concerned to issue a letter to these institutions which had not deposited the annual affiliation fee till date.
They said Kathua district was having a maximum strength of 10 private schools which had not submitted the fee followed by Doda (eight schools), Samba (four schools), Rajouri (four schools) and Poonch (two schools).
The schools of Kathua district are Brighting Star High School, House of Children Higher Secondary School, Bal Vidya Peeth School, Modern Public High School, Hari Palace Public School, Holy Family Convent School, Modern Public High School, Billawar Public School, Little Flower School and Bhartiya Vidya Mandir High School.
Private schools which have not submitted the affiliation fee are Rich Harvest School, St Antony Convent School, New Modern Academy and Niranjana Education Trust.
The private schools in Rajouri district are Aftab Memorial Institute, SPN Bharitya Vidya Mandir, Old Little Angel Academy and BJS Bright Institute.
The private schools in Doda district include Bhardiya Vidya Mandir, Akhtar Public School, Holy Mission Public School, Green Model Academy, Shri Chetu Aryan Memorial Vidya Mandir, Indira Memorial Public School, Model Secular High School and New Light Public High School.
Pertinently, the board, in 2016, had initiated the process to conduct physical verification of the schools in order to verify their claims. A criteria was also fixed for granting affiliation of private schools after they fulfil all mandatory facilities. There are over 5,000 private schools in J&K of which 2,276 are in the Jammu province.
Letters issued
Sources said the J&K Board of School Education had directed the in charge officials of the branch offices concerned to issue a letter to these institutions which had not deposited the annual affiliation fee till date
The board, in 2016, had initiated the process to conduct physical verification of the schools in order to verify their claims
A criteria was also fixed for granting affiliation of private schools after they fulfil all mandatory facilities. There are over 5,000 private schools in J&K of which 2,276 are in the Jammu province
Top Stories