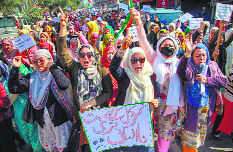 Ladakh
Arteev Sharma
In an attempt to retrieve lost ground in Ladakh, India's largest Lok Sabha seat in geographical terms, the BJP had played a trump card by announcing separate divisional status to the region ahead of the parliamentary poll.
While Opposition groups had questioned the timing of this administrative decision taken under President's rule, the creation of a separate division for Ladakh (on February 8) with its headquarters in Leh snowballed into a major controversy that divided the people on communal lines in the peaceful region.
Kargil people were on the streets and observed a series of shutdowns demanding rotational headquarters.
The Governor's administration has now decided to set up rotational headquarters for six months each in Leh and Kargil districts of the newly created Ladakh division. This has restored some normalcy in the region.
Moreover, the anger of having been "betrayed and cheated on sentimental issues", particularly Union Territory (UT) status to Ladakh, still prevails among the Ladakhi people.
They feel that they have been "let down" on the issues which were "close to their heart", notwithstanding Prime Minister Narendra Modi's three visits to the region and announcement of some mega developmental projects for Ladakh after the BJP-led NDA government came to power in 2014.
While the BJP leadership claims that nearly Rs 20,000 crore out of the Rs 80,000 crore Prime Minister's Development Package (PMDP), announced by the Prime Minister for Jammu and Kashmir in November 2015, had been allotted to Ladakh, the Opposition has alleged that the BJP is trying to "take credit of projects which were sanctioned during the UPA-II regime".
In sharp contrast to the nationwide uproar on demonetisation and GST, Ladakhi people are more attached to their emotional (UT demand) and basic issues, including opening of a Central University with medical and engineering colleges in Ladakh, opening of Kailash Mansarovar road via Demchok for pilgrims and special employment package for the uneducated youth of Ladakh.
Sparsely populated Ladakh seat holds strategic importance because it shares vast borders with China and Pakistan.
Lack of healthcare facilities, job opportunities, non-availability of institutes of higher learning and little exposure to the outside world are some major issues confronting the population.
The BJP has been facing an "acceptance crisis", particularly after the resignation of its face in Ladakh and lone MP Thupstan Chhewang.
The failure of the BJP to open its account in the recently-held civic poll in Ladakh is indicative of the saffron party's dwindling popularity in the region.
"Divisional status is a big leap by the Ladakhi people towards their core demand of UT status for the region. It has given Ladakh its own identity. It will also give it more financial and administrative autonomy," says Leh Council chairman Jamyang Tsering Namgyal who belongs to the BJP.
"The BJP focus has remained on Leh due to which people in Kargil are feeling neglected," says Sheikh Sadiq Rajai, chairman of the influential religious organisation Imam Khomeini Memorial Trust (IKMT), Kargil. "The decision of having divisional headquarters was taken under a conspiracy to disturb the communal harmony of the Ladakh region," says senior NC leader Qamar Ali Akhoon.
Thupstan Chhewang (BJP)
He resigned from the Lok Sabha and basic membership of the BJP on November 14, 2018. Chhewang, a senior Buddhist leader from the Leh district, created a history of sorts for the BJP when he became the first party leader to win from Ladakh in 2014.
Key players
| Congress | BJP | Independents
ASSEMBLY SEGMENTS
Ladakh has two districts — the Buddhist-dominated Leh and Shia Muslim-majority Kargil. The Lok Sabha seat has four Assembly segments Nubra, Leh, Kargil and Zanskar. Nubra, Leh and Kargil are represented by the Congress and Zanskar was won by an Independent who has now joined the Peoples Conference.
Total voters
1,56,888
Male
79,432
Female
77,456
Top News
Opposition Congress demands resignation of CM Naveen Patnaik...
Pace sensation Titas Sadhu, leg-spinner Parshavi Chopra dish...
Congress leader says people of J-K are in pain and his party...
Said there is a push from a growing number of member nations...
'Winning on the field and off it': ICC posts video on social...