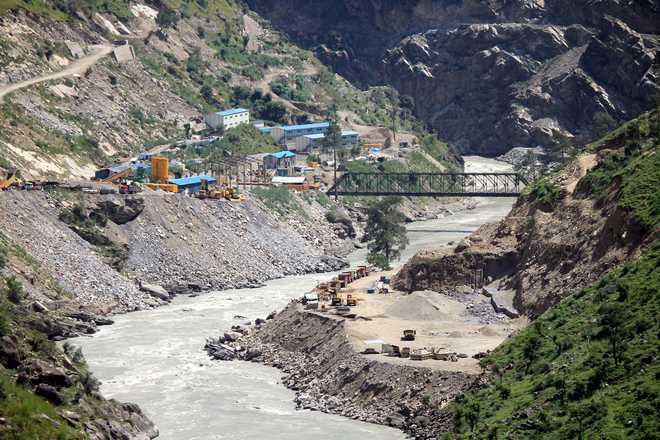 Tribune News Service
Srinagar, September 19
The J&K Socio-Economic Coordination Committee (JKSECC), an amalgam of 27 civil society and trade bodies, on Wednesday objected to the announcement of a joint venture on the Ratle Hydroelectric Power Project in the recent State Administrative Council (SAC) meeting.
"We want to make the public aware about the sinister designs of the present regime to gift away yet another hydroelectric power project to some unknown Central public sector undertakings (PSUs) clandestinely under 'joint venture' on terms and conditions that have not been revealed. The SAC has accorded sanction to the formation of a separate joint venture company to develop 850 MW Ratle Hydroelectric Power Project on the Chenab basin. The joint venture company is intended to be set up by the J&K State Power Development Corporation (JKSPDC) in partnership with an undisclosed central PSU," a statement issued after a JKSECC press conference said.
"The JKSECC takes strong objection to the proposal as the state has adequate experience, expertise and capability of managing and executing any new power project on its own because it has already successfully launched 900-MW Bhagliar Hydroelectric Power Project all by itself more effectively and efficiently than any other player in the field," the statement added.
Stating that the SAC decision to introduce a partner for execution of the power project was 'grossly against people's interests', the JKSECC held the state bureaucracy 'squarely responsible for preparing and placing such suspicious proposals before the SAC'.
It demanded that the SAC decision regarding the formation of a joint venture with some Central PSU for the execution of the Ratle power project be revoked immediately. It also urged the SAC to strengthen and empower the JKSPDC as an independent and autonomous company on the pattern of the J&K Bank and entrust the job of execution of the Ratle and other hydroelectric projects to it.
Want SAC decision revoked
The J&K Socio-Economic Coordination Committee demanded that the State Administrative Council's (SAC) decision to form a joint venture with some Central public sector undertaking (PSU) for the execution of the Ratle power project should be revoked immediately.
Top News
Was speaking to Indian journalists in Washington
This comes amid a diplomatic row between India and Canada ov...
Granthi Giani Jaswinder Singh from Pine Hill Gurdwara in New...
Heavy security deployed to deal with the situation
Family say all 3 accused knew Hrithik and that there were no...