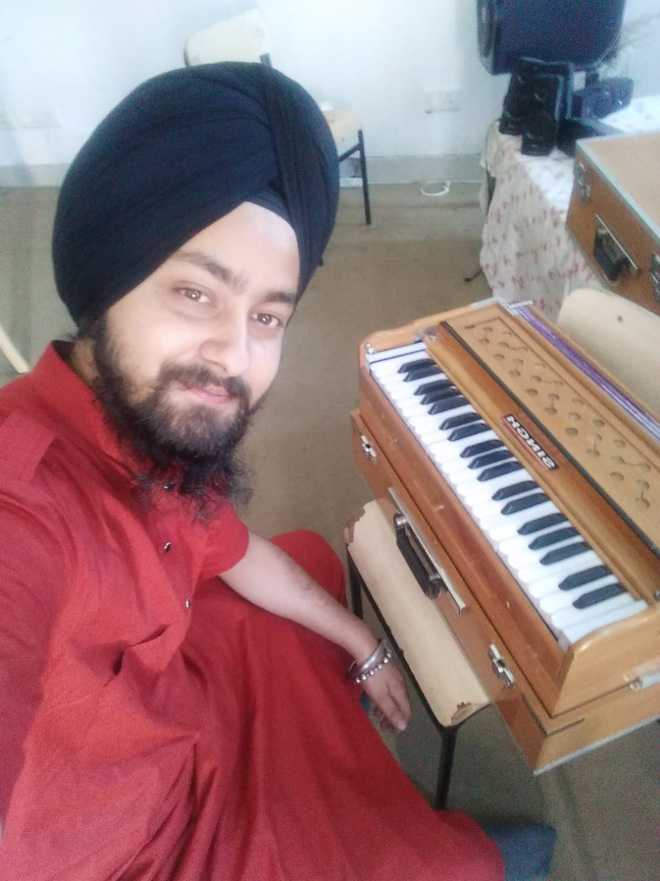 M Aamir Khan
Tribune News Service
Srinagar, January 22
The Sikhs are usually known for belting out bhangra tunes, but Harkrishan Singh Sanam (25) from the Valley has shot to fame for singing Kashmiri songs.
When his rendition of the famous Kashmiri song 'Harmuakh Bartal' was released on Facebook, it received thousands of likes, views and shares. Later, he released his own compositions and that too went viral.
Sanam, who hails from a village in south Kashmir's militancy-affected Tral area, is now inspiring other Valley-based Sikh youth to sing Kashmiri songs, besides building interfaith bonds.
Sanam said he was advised to sing Kashmiri songs first by his teachers at the Guru Granth Sahib World University in Fatehpur, Punjab, and then by his guru Ustad Nadeem Salamat Khan.
"When I was pursuing MA in music, my teachers were impressed with my Kashmiri songs and they told me to continue singing in the language. Later, when I shared the stage with my guru Ustad Nadeem Salamat Khan in Malaysia last year, he also advised me that I should sing Kashmiri songs," said Sanam, who is at present the only popular Sikh singer of the Valley. Around 80,000 Sikhs live in Kashmir, but their mother tongue is Punjabi.
He said he later took further training from Ustad Mohammad Ismail Shah from his native place Tral especially to learn the nuances and pronunciation of the Kashmiri language.
"I had to work on my pronunciation. And when 'Harmuakh Bartal' besides my own compositions went viral, it was heartening to see the Kashmiris (Muslims) appreciating my efforts," Sanam said, adding that his songs were also building interfaith bonds.
Sanam's popularity can be gauged by the comments on the social media. "Wonderful brother...Kashmir brotherhood zindabad....Spread love peace and happiness," wrote Ejaz Bhat on Facebook.Another netizen Abbas Beigh commented: "Singh is King".
Top News
Children were attacked on a playground, tweets a local lawma...
Wankhede moved the high court last month seeking quashing of...
AAP accuses the BJP of creating a ruckus at the event
Waste was being burnt, which allegedly resulted in the explo...
He has been awarded forfeiture of three years' seniority of ...