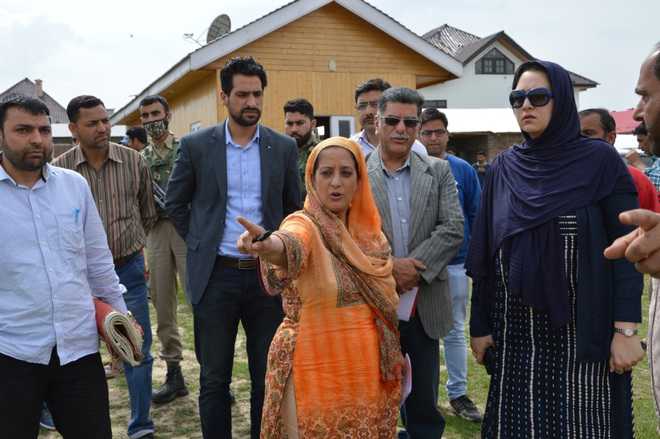 Samaan Lateef
Tribune News Service
Srinagar, June 2
A woman revenue officer has shot to fame after launching a crusade against the land mafia, including people close to the power corridors in Kashmir.
Nusrat Aziz, 40, has retrieved around 10 kanals of government land at Friends Enclave, Humhama locality, near the Srinagar International Airport, which were occupied by people close to politicians and some senior retired and serving officers.
Nusrat is seen in videos leading encroachment drives despite opposition from land grabbers, who are now facing charges for interrupting her official work.
"We have retrieved 10 kanals from some influential persons at Friends Enclave. As long as I am here, the encroachment drive will continue," Nusrat told The Tribune.
She said the drive was launched on the instructions of the Divisional Commissioner, Kashmir, Baseer Khan and Deputy Commissioner, Budgam, Sehrish Asghar.
"I am in trauma and stress ever since we started the drive. It's very difficult to deal with these influential land grabbers," she said.
Official sources said revenue officers and Srinagar Municipal Corporation functionaries had conveniently shut their eyes to illegal constructions on government land at Humhama.
Nusrat faced severe opposition from land grabbers who threatened her of dire consequences. Some politicians had also intervened to stop the drive.
Even as she had sought registration of an FIR against the encroachers, officials said the government had favoured them by issuing a bound-down notice under Section 107 of the CrPC, warning them not to indulge in any such crime in future.
Locals hailed the drive carried out by Nusrat. "We are thankful to Nusrat ji for removing the land encroachments here. These land grabbers would harass us and use their influence to encroach upon government land," said a local Abdul Majid.
The police have filed an FIR against Abdul Halim, a retired assistant director in the handloom department for misbehaving with the woman officer and preventing her from discharging her duty. Halim was arrested on Saturday evening.
Nusrat wants that the government should immediately fence the retrieved land and prevent it from encroachment.
Top News
Flight UK954 and Flight UK928 from Mumbai to Delhi diverts t...
Sarvjeet Sidhu, pleaded guilty to attempted murder, while Su...
The temporary ceasefire, which was initially reached on Nove...
Posthumous sperm retrieval (PSR) is a procedure that involve...
The student's murder and the letter warning of more such kil...