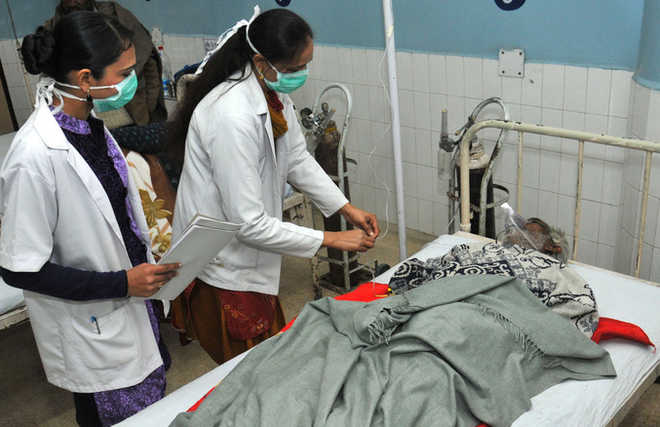 Aparna Banerji
Tribune News Service
Jalandhar, February 10
Following the death of a suspected patient Suman from Sangam Vihar, two more suspected swine flu patients (B category) of the district have also died.
Paramjit Singh (60), a resident of Billy Brech village, and Joginder Singh (65) of Mohalla Baba Gadiya, Phagwara, both died at Patel Hospital yesterday. With this, the number of deaths of swine flu suspects in the district has reached five.
While already three patients who tested positive for swine flu in the district have died, the latest deaths of the suspected patients takes the total number of deaths of the swine flu-related cases in the district to eight. Interestingly, while the said patients belong to the B category, both of them suffered serious complications and had been put on the ventilator.
Meanwhile, the throat swabs of two C category patients Geeta and Paramvir (three month old), admitted to the Civil Hospital yesterday, have also been sent for testing.
Five deaths of suspected or B category patients in the district have also rung warning bells. The surprising and regular deaths of B category patients also indicate a constant pattern of deaths.
Reacting to the query why these patients were not categorised into category C when they reported with complications, District Epidemiologist and nodal officer IDSP Dr Satish Sood said, "These two patients (who died yesterday) had previous illnesses or complications. While they reported to the hospital with B category symptoms, their health deteriorated later."
Swine flu categories
Category A
Patients with mild fever plus cough/sore throat with or without body ache, headache, diarrhoea and vomiting will be categorised as Category-A. They do not require Oseltamivir and should be treated for the symptoms mentioned.
Category B
Category BI is for those patients, who have high-grade fever and severe sore throat in addition to all the symptoms mentioned under Category-A. They may require home isolation and Oseltamivir. Category BII is for those who, in addition to all the Category A symptoms, have high-risk conditions like children less than 5-years-old, pregnant women, persons aged 65 or older, patients with lung diseases, heart disease, liver disease, kidney disease, blood disorders, diabetes, neurological disorders, cancer and HIV/AIDS, patients on long-term cortisone therapy. They shall be treated with Oseltamivir but no tests for H1N1 is required for Category-B (I) and (II).
Category C
In addition to the above symptoms, these patients have breathlessness, chest pain, drowsiness, fall in blood pressure, sputum mixed with blood, bluish discolouration of nails, irritability among small children, refusal to accept food, worsening of underlying chronic conditions.
Top News
Rescue workers break through the 60-metre stretch of rubble ...
Education dept issues the dismissal orders following approva...
To hold a meeting in Hisar to decide their next course of ac...
Set to meet Governor Banwarilal Purohit
Sikhs of America says gurdwaras are places of worship and sh...