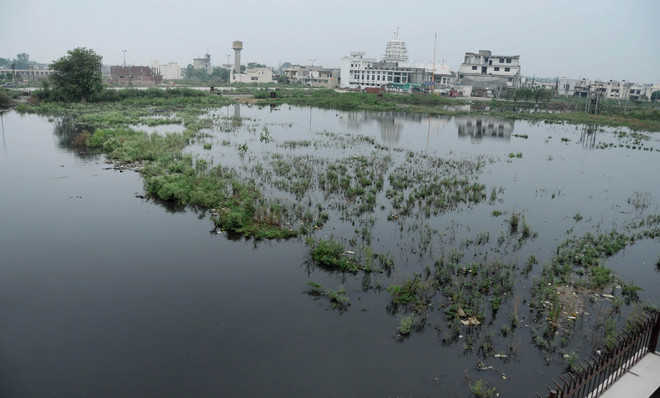 Tribune News Service
Jalandhar, July 16
Tired and sick of having lodged complaints with all departments concerned for the past two years, residents of the posh Surya Enclave have almost given up any hope of repair of leakage in the sewerage in the locality, which has made their lives hellish.
Owing to continuous leakage of sewer, a chunk of land left by the Jalandhar Improvement Trust for setting up multi-storey flats in the locality has virtually taken the shape of a man-made lake, spread in 6-7 acres of land, and the residents have now offered the government to start boating here, as they feel that the latter is not willing to provide any solution to the aggravating problem.
They said manholes in the locality were left uncovered by the Trust when the colony was carved.
"Dairy farmers keeping cattle illegally in the adjoining Surya Enclave Extension area found it a good place to daily bathe their animals, which broke down the sewer system further. Though we lodged complaints a number of times with the JIT, Municipal Corporation as well as the sewerage board, they only have been passing the buck while the volume of sullage has been spreading fast," said Ashwani, a resident of the locality.
Another resident Harish Chander rued: "We have lodged complaints on the state government portal also and have been sending pictures and videos of the site to the Principal Secretary, Local Bodies, Director Local Bodies, area MLA, Deputy Commissioner and MC Commissioner but to no avail. Owing to the monsoon, the sewer water has spread further. We have to keep our doors and windows shut all time. Our exhaust fans remain on throughout the day. Don't we have the right to clean the air and surroundings? The pond water has started flowing into the foundation of our house. Who will bear the cost of repairs that our house would require? We have become prone to water-borne and vector-borne diseases. Who will bear our medical expenses?"
The residents showed that the sewer water had reached a gurdwara and a temple in the colony. Even the holy places were now affected by the sullage.
"Ideally, MC officials only need to get the open manholes covered to resolve the issue. But sewer points have got submerged in waters. They first need to drain out the water from the plots, find leaking points and repair them. The sewerage, however, is fully connected with the main sewage disposal system at Pholariwal," said another resident.
Rajinder Beri, MLA , Jalandhar Central, said: "Tenders have already been floated for the work. We expect the work to start on the site in 15 days."