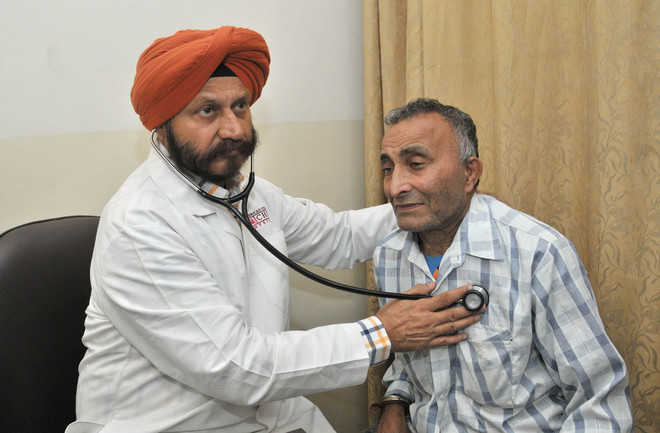 Tribune News Service
Jalandhar, May 1
World Asthma Day is organised by the Global Initiative for Asthma with the goal to improving asthma awareness and care around the world. The event takes place on the first Tuesday of May every year.
According to the World Health Organisation (WHO) estimates, 300 million people suffer from asthma and it's the most common chronic disease among children. The WHO also notes that asthma affects people in all countries around the world regardless of development although most deaths occur in lower income countries.
On the occasion this year, Dr HJ Singh, chairman, Indian Chest Society, Punjab, and former president, Indian Association of Bronchology, said bronchial asthma was a serious global health problem.
Dr Singh at an awareness seminar held today said that it was very important on part of treating physicians to give knowledge about the disease first and then prescribe the drugs since asthma is a long-standing disease and the only thing which could be assured was the excellent control of the disease.
"It is wrong to commit cure for the disease because for this reason only patient get misguided only and go for corner to the other in search of a cure and thus fall into wrong hands. The other belief among patients of bronchial asthma is that probably asthma gets worse because of milk, curd, lassi and fruit like bananas and rice," said Dr Singh. He said this was a misconception and the patients should consume these foods without hesitation.
Experts have found that allergy to peanut, fish, eggs and other articles could cause asthma in a very little percentage of cases. Only the inhalation therapy is the mainstay of treatment in asthma. Inhaled steroids are quite safe and efficacious in the treatment of asthma.
The challenge of the last 10 years is to understand what was happening with the airways. The challenge at present is to organise asthma care effectively and to understand why more people are developing asthma and to prevent the onset of condition in high-risk individuals. According to Dr HJ Singh clear communication and health education is the key to compliance in control of asthma.
Traffic personnel, farmers major sufferers
There has been a 15 to 20 per cent rise in asthma cases being reported at the Civil Hospital during the harvest season. Incidentally, a majority of new patients being reported in the season comprise traffic personnel, truck drivers and farmers.
While as many as 50 to 60 patients are being reported in the OPD of the Civil Hospital per day in a month, over 1,500 patients are being reported. Doctors said the cause in the rise of the patients is both allergens in the air due to stubble particles and rise in pollution, in general, as well. Half of the patients of the OPD comprises asthma and COPD patients due to agitation and rise in cases due to the seasonal problems.
While every 10 to 15 new cases are being reported at the Civil Hospital, of these a majority are asthma cases.
Dr Raghu Sabharwal, District TB Officer, said, "As every year there is a dramatic rise in cases during the harvest season, we had thus begun telling patients well in February and March to take all requisite precautions. While about 10 to 15 new cases of asthma come in each day, among some older patients as well, bronchial exacerbations are witnessed during the season due to the agitation caused due to the allergens in the air."
"The best preventive measure for patients to take is to use therapeutic inhalers which have the drug salbutamol or levo-Salbutamol. It is inadvisable to consume steroids orally. But when the same are administered through inhalers, only several micrograms go in which is effective enough and not too strong a medication," he added.
The DTO also advised that patients should stay indoors, cover their mouths and faces and should avoid smoke and dust during the weather.
Dr Naresh Bathla said, "Due to contraction in nerves, severity of asthma increases and inhaler dosage is administered to ensure that swelling and constriction is reduced."
The World Asthma Day shall also be observed at the local Civil Hospital tomorrow. The hospital shall hold a meet with patients wherein they shall be apprised of the threats and preventive measures to be taken to avoid asthma attacks during the harvest season.
Stress on importance of inhalers
Ahead of World Asthma Day on May 2, doctors in the city raised serious concerns on the disease. Stressing on the importance of lung check-up, Dr Arun Walia of Vedanta Hospital, Jalandhar, said, "We should remember that asthma is a long-term disease that has no cure, but can be controlled well through inhalers. There are many patients who will stop taking their inhalers once they feel better. This can be dangerous and affect their breathing and doing daily chores will make them breathless. Patients should consult their doctor and the necessary tests should be conducted to keep their lungs healthy and fit."
Dr Vineet Mahajan of PIMS Medical College, Jalandhar, added, "It is important to understand the need to know your lung number and why inhalation therapy is the most effective way to control asthma and breathlessness. This World Asthma Day, we urge people who are asthmatic or feel breathless to get the spirometry test or pulmonary test, a first step to understand asthma symptoms. Myths associated with the treatment need to be removed. Inhaled corticosteroids have been recognised and widely accepted as the mainstay of asthma management."
Top News
Says 2004-2014 was a lost decade but 2030 will be India's de...
UPI soon for all in-bound travellers, coin-vending machines:...
He said the prime minister did not answer the questions he h...
All promotional cases to be kept outside the purview of the ...
Three-member collegium also recommends appointment CJs of hi...