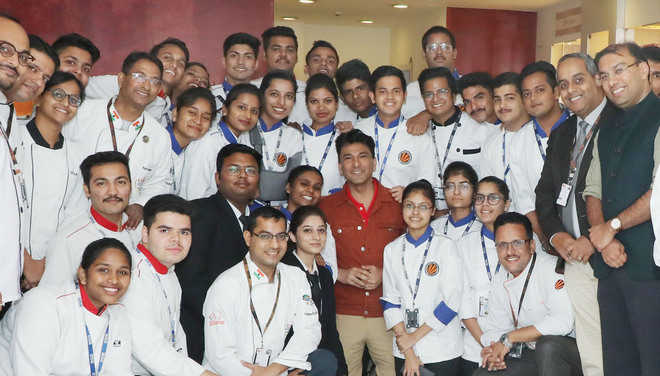 Avneet Kaur
Jalandhar, October 21
Celebrity chef Vikas Khanna visited Lovely Sweets here today and interacted with budding chefs of Lovely Professional University (LPU) about his journey from Amritsar to America, his recent book 'The Magic of Slow Cooking', which, he says, is dedicated to a technique that people across the world has learnt from India and about recent trends in cooking.
Khanna, in an hour-long talk, shared his personal experiences and motivated students to aim high in life and learn from others' experiences. He also highlighted the value of the Indian cuisine in the present times.
"Indian food is being celebrated globally. Our food depicts our culture and is a part of menu of big hotels across the world," he said.
When asked that people find his journey from Punjab to New York fascinating and he is an inspiration to many and what challenges he faced in the same and how he handled it, he said in 2004 in France, while he was getting training as a chef, he was judged on the basis of the colour of his skin and the renowned chef, under whom he was learning cooking, refused to taste the food cooked by him.
He said he was disappointed and shocked over the incident then and afterwards, he decided to focus on his path of being a chef that everyone admires. On being asked about his favourite dish and chef, he replied: "My latest dish always tops the list of favourites while my favourite chef is my aunt (father's sister) and I love eating dishes made by her."
When asked about his upcoming book, 'The Ceremony of Aromas', he said it was something for which a research had been done for nine years. He said it's about the production of spices, different flavours, recipes and much more.
Sharing some tips with the budding chefs, Khanna said: "I'm overwhelmed to witness teens brimming with ideas and innovations. Such interactions encourage the young blood to do wonders," he said, adding that the one who aspires to be a chef has to have that 'junoon' and should be ready to play with ingredients to come up with something unique.