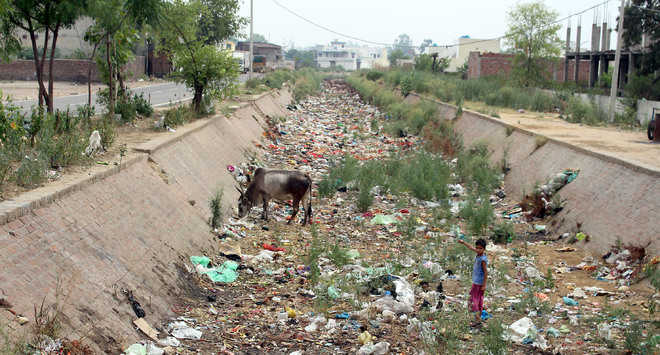 Aparna Banerji
Tribune News Service
Jalandhar, June 9
Out of 4, 25,000 acres under paddy cultivation in Jalandhar, mere 40,000 acres would be irrigated by Bist Doab Canal (BDC) which gets water supply from the Ropar Headworks.
While tributaries of local drains and rivers had dried up and polluted with industrial waste, the BDC has been the only active source of surface water left in the district to provide water for irrigation purposes.
However, due to the absence of rainwater harvesting projects and surface water sources, less than one per cent of the land would be irrigated by the BDC. Irony is that the BDC has been clogged with garbage for most part of the year.
The BDC carries approximately 1,200 to 1,600 cusecs of water and moves through Garhshankar, Adampur, Nawanshahr, Banga, Phillaur, Kapurthala and Jalandhar in Doaba.
Ram Rattan, XEN, Drainage Department said, "Bist Doab Canal primarily ferries water to Doaba. The Bhakra reservoir has filled up earlier. Water is being released ahead of monsoon. Reservoir situation is good this year. However, groundwater level in Punjab has reached to an alarming level."
Davinder Singh, XEN, Bist Doab, Jalandhar Circle said, "Bist Doab is 801-km long. Water will be released from Ropar into the Bist Doab on June 10 to 11. Demand for water from the canal rises during the paddy season."
He said, "Due to maintenance and repair work, the supply was stopped. Ninety per cent maintenance and repair work on the canal has been completed. Since there is a possibility of surplus water in the drain, it might flow in winter as well."
'Groundwater most exploited'
Block Agricultural Officer Naresh Gulati said, "The total farmland in the district is around 6,05,000 acres. Of this, 4.25 lakh acres is under paddy cultivation. The rest is used for cultivating other crops and vegetables. Out of over 6 lakh acres, only 2 per cent is under surface water irrigation while groundwater still remains the most exploited means of irrigation." He said pond water irrigation has been encouraged and work has begun in some villages, but they were much less in prevalence.