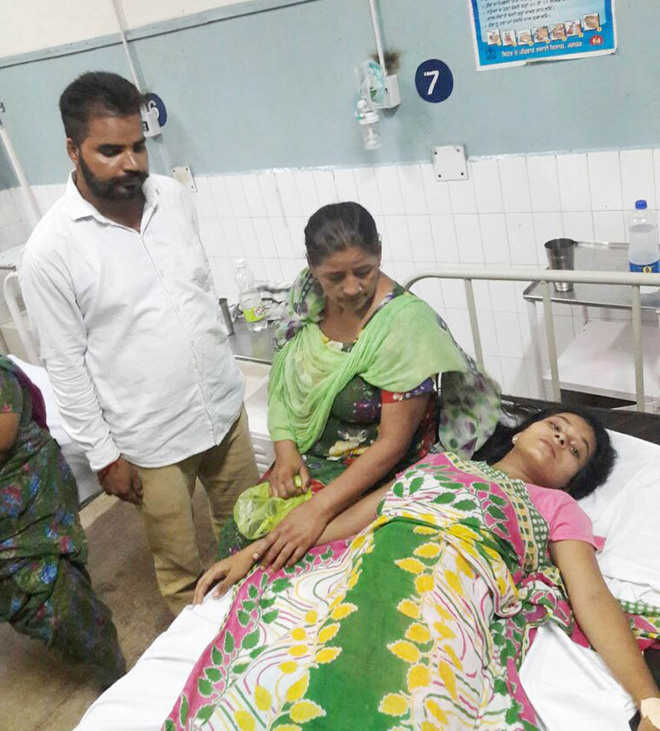 Rachna Khaira
Tribune News Service
Jalandhar, August 10
The mystery behind the braid-cutting incidents has deepened, with more cases coming to light in the city today.
Thirty-six-year old Dinesh Kumar's hair were chopped off mysteriously at his house in the Dakoha area. According to him, he felt some uneasiness and later got unconsciousness. When he regained consciousness, he found a portion of his hair lying on floor.
In another incident, a woman's braid was chopped off at her house. The victim said she was lying on her bed and suddenly felt as if someone was pulling her hair. When she informed about this to her husband sitting nearby, he saw her chopped off hair lying on the floor.
Sources, meanwhile, wondered whether it was an act of an evil spirit. But why only middle-aged and illiterate women are becoming the sole target of the "mysterious" braid cutter? Though some cases of children and men too were reported in various parts of the country, the number is almost negligible.
Dr Smita Vasudev, a psychologist in the city, said, "These are purely cases of human involvement in which some people have fallen victim to the hatred of their close associates. Various reasons like inner house conflict, social stigma of some kind, personal preferences over one's looks and even anger on some issue can be some of the reasons behind such incidents."
She added that while in certain cases some victims have confessed to having done it of their own, some have become victims to the "malevolence" of their near and dear ones.
The Tribune spoke to people across social strata and found that while some of them were feeling conscious and panicky about the issue, a majority were laughing at it.
Saloni (14) said a similar incident of hair chopping was shown in a series of episodes of a famous thriller serial on a national network TV in May. "I remember a person 'Ustara Man' used to chop off hair of corrupt people with his razor. It seems that someone has got an idea from this and has initiated a chain reaction," said Saloni, laughing away at the mass hysteria created in society. The serial was based on the concept of 'Charlie's Angels' and is an action thriller.
However, according to Dr Vasudev, the victims' mental health is a real cause of concern as they may take months to recover.
Police begin special probe
As none of the victims of the braid-cutting incident has lodged a formal complaint with the police, it is unable to launch any investigation in such cases. Jalandhar Police Commissioner Praveen Sinha has formed a core group of top officials to bring out the hidden mystery behind such incidents. Also, as a majority of the victims have claimed that they fell unconscious during the incident, the police are planning to get their medical examination done to rule out any intoxicant substance inhaled by them. It can help in breaking the mystery.
"We are also scrutinising the episodes of the tele-serial that has shown braid cutting incidents in May. We are exploring the possibilities that may have instigated the chain reaction in the country. We will soon be able to crack some mystery," said Sinha. He said if found absurd, the department will take up the matter with the Union Ministry of Information and Braodcasting.
What is mass hysteria?
Do you remember the story of Henny Penny, also known as Chicken Little? In this folktale, a chicken believes that the world is coming to an end and hysterically runs around shouting, 'The sky is falling!' As a result, Chicken Little created mass hysteria.
Mass hysteria is defined as an imagined or assumed threat that causes physical symptoms among a large number of people. Sociologist Robert Bartholomew, author of several books on mass hysteria, including 'The Martians Have Landed: A History of Media-Driven Panics and Hoaxes', explained that mass hysteria symptoms typically include smelling gas and seeing strange objects, acting like animals and fainting. Mass hysteria is a short-term event that may or may not have a specific cause. As per, Bartholomew, people can start having real symptoms just from stories they hear, and sometimes, there is no real explanation for why mass hysteria happens; it just happens.
Proven case
An example of mass hysteria that does have a known cause occurred on October 30, 1938, during a radio broadcast adapted from HG Wells' novel "The War of the Worlds". It occurred when Orson Welles caused thousands of listeners to believe that an actual Martian invasion was taking place. The hour-long radio broadcast was narrated in a news bulletin format without any commercial breaks. It caused many in the audience to become hysterical, reporting that they could smell poison gas or see lightning flashes in the distance. As per historians, approximately six million people heard the broadcast. 1.7 million thought it was true, and out of those, 1.2 million actually exhibited hysterical behaviour.
How to end this mass hysteria?
Dr Vasudev said mass hysteria is short lived and will die its own death. "People should stay calm, do not talk about the issue and also be more vigilant about their surroundings. It may be possible that your most trustworthy person may be behind the attack," said Dr Vasudev.
Top News
The minister inaugurates Chief Judicial Magistrate court, Ma...
'I am Rahul Gandhi, not Rahul Savarkar,' he said when asked ...
Former Union Minister Ravi Shankar Prasad says stay on convi...
The plea is filed by a Kerala-based social activist
Ghanghas is the 6th Indian boxer to be crowned world champio...