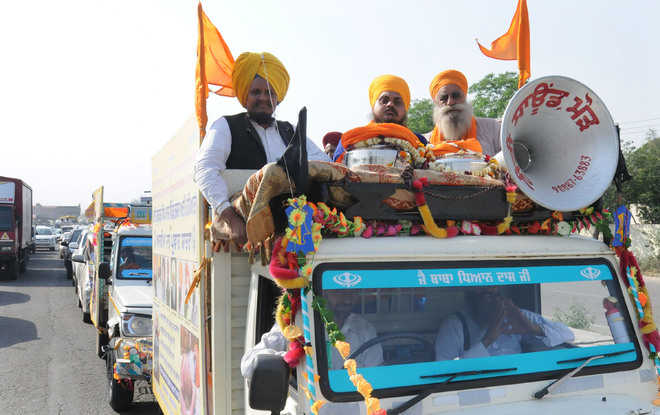 Tribune News Service
Jalandhar, March 31
The cavalcade, which was taking the mortal remains of Gurbaksh Singh Khalsa (52) to Anandpur Sahib via Amritsar, reached the city on Saturday.
Bhai Gurbaksh Singh, who had been demanding the release of Sikh radicals and was lodged in jail, despite completing his jail term, had committed suicide on March 21 by jumping off a water tank from his native Thaska Ali village in Kurukshetra.
A cavalcade of about 50 vehicles passed from the district and the foremost vehicle had Bhai's remains which were kept for people to have a look at the activist's remains.
Activists said while it was his wish that this remains be taken for the darshan of the three takhts, they added that while the Harayana government did not allow them that, Bhai's remains were now being taken to Amritsar from where they shall be taken to Anandur Sahib.
They said if the cavalcade reached Anandpur Sahib on Saturday then the ashes would be immersed.
They said the demands for which Bhai struggled throughout his life stay put and they should be reiterated by his followers – the Sikh prisoners undergoing punishment in jail should be freed after their jail term was over.
Notably, Khalsa had begun his 44-day hunger strike at a Mohali-based gurdwara in 2013. While he ended his strike after government's assurances on December 27, 2013. He resumed his hunger strike on November 14, 2014 after his demands remained unmet.
His demands still remain unheeded by the previous and present governments of the state.