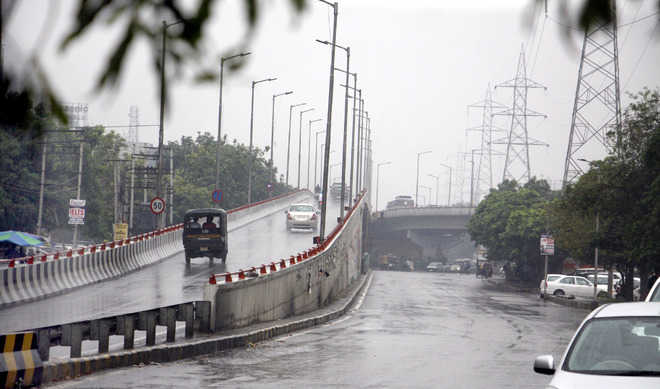 Avneet Kaur
Jalandhar, July 2
Owing to the continuous rain in the past three-four days, the city recorded its best-ever air quality index (AQI) of 55 on Monday morning.
The AQI went up marginally to 20 by the evening. Air quality is measured by the level of the main pollutant in the air — particulate material 2.5 or PM 2.5 particles that measure less than 2.5 microns.
An AQI of under 100 is considered to be in the "good category", which means the air pollution poses little or no risk. While, AQI between 51-100 is satisfactory, 101-200 is moderate, 201-300 is poor, and 301-400 is very poor, while 401 and above is severe.
It's the lowest recorded AQI until now. However, in the past the AQI of the city has been 150-180 and even above.
"As it was raining continuously for the past three-four days, accompanied by extremely fast winds, this does not allow any emission to accumulate in the air and convert into pollution. Even if the rain has stopped now, the AQI will fluctuate between 50-90 for at least a week", said Punjab Pollution Control Board Chairman KS Pannu.
People should also contribute towards keeping the air quality good. They should not unnecessarily pollute the air by burning garbage and letting the hazardous smoke go into the air as it could cause health issues, he added.
Top News
Teams conducting raids to arrest the BJP leader
Jaishankar meets UN Secretary-General Antonio Guterres and P...
Canada is home to about 770,000 Sikhs - the highest populati...
Canada has alleged that Indian authorities were behind Nijja...