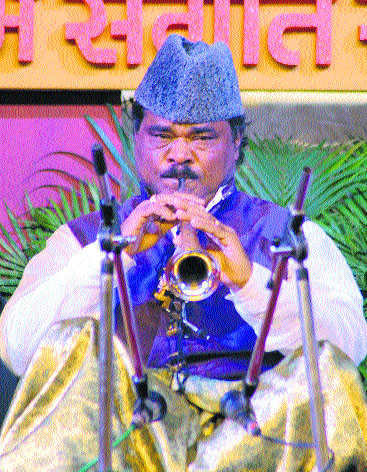 Rachna Khaira
Tribune News Service
Jalandhar, December 26
"One listens to classical music for inner peace and not for entertainment," said renowned classical vocalist and shehnai artist Pandit S. Ballesh, a disciple of the world famous shehnai maestro and Bharat Ratna awardee Ustad Bismillah Khan.
Pandit S. Ballesh was here to perform at the 140th Baba Harivallabh Sangeet Sammelan that commenced at Shri Devi Talab Mandir on Friday.
"With a variety of music available in today's world, classical music has managed to hold its own as all genre of music has originated from it. It is not for those who look for entertainment in music shows and concerts but for those who seek mental peace and inner solace," said the artist, a renowned name in Bollywood music.
After receiving training from shehnai virtuoso Ustad Bismillah Khan, S. Balesh performed in various classical concerts, jugalbandis (duets) and films. He has given backstage performance in songs like 'Tum Tak' in film "Ranjhanaa", 'Dichotomy of Fame', and in noted film director Imtiaz Ali's "Rockstar" and the most recent movie "Bahubali".
Also known as 'Shehnai Chakravarty' and 'Bismillah Khan of South', Balesh hails from a small town Hubli in Karnataka. He is an expert vocalist of the Patiala and the Benares Gharana. "While the ragas in Benares Gharana are sung in soft, melodious tune, ragas in Patiala Gharana are sung with a little push in the swara," said Balesh. He has so far been a part of more than 5,000 backstage chorus and sung 15,000 Bollywood songs and around 25,000 devotional songs.
Speaking of his guru, he said being a disciple of Bismillah Khan was a great honour and privilege which very few got. "The way he used to perform by bringing his mood, raga and swara on the same frequency is unmatched and beyond imagination. He never sang as a human being but as a soul," said the maestro.
When does he enjoy singing the most? During a stage performance or during riyaaz? "One has to feel each and every single thread of the rhythm coming through the raga and should stick to it to enjoy classical music. An artist performs for the audience to grant them inner peace but when he wants to sing for himself, there is no better way but to do riyaaz," said the shehnai virtuoso.
The classical vocalist mesmerised the audience on the inaugural day of the sammelan and sang in Maru Bihaag raga as per the tradition of the Benares Gharana. The raga is played at night (second quarter of night) and its mood is celebratory as well as romantic, making it a common raga, sung especially on the occasion of marriage.
Top News
Five-judge Constitution Bench had reserved the verdict on Se...
Next hearing soon, closely following matter and extending al...
Sonia Gandhi, Mallikarjun Kharge, Rahul, Priyanka attend the...
Flags concerns to US, Canada over Pannun's threat to Air Ind...