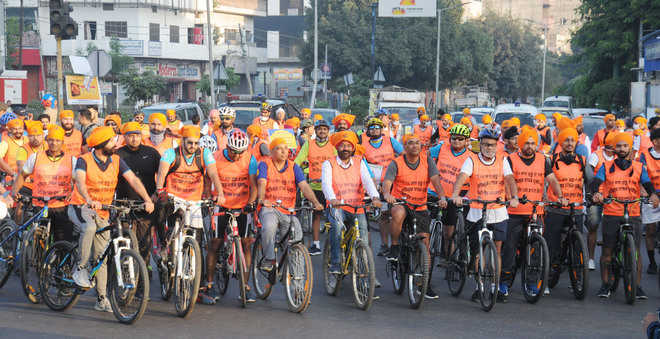 Our Correspondent
Jalandhar, October 20
A large number of people from all walks of life tokk part in a cycle awareness rally held here today. The rally was dedicated to the 550th Parkash Purb of Guru Nanak Dev.
It was flagged off by Deputy Commissioner Varinder Kumar Sharma, local MLAs, Police Commissioner Gurpreet Singh Bhullar and others from Guru Nanak Mission Chowk here. It passed through Guru Amar Das Chowk, Manbro Chowk, Guru Ravi Das Chowk, Lambra, Nakodar bypass, Malsia, Dalla and concluded at Sultanpur Lodhi where the first Guru of Sikhs, Guru Nanak Dev, had attained enlightenment 550 years ago.
The aim of the rally was to make people aware of ill-effects of drugs, health consciousness, pollution, stubble burning, and social responsibilities such as education of girl child.
Holding placards to spread the message of Guru Nanak's teachings and messages of women empowerment, environment, pollution and health, people cycled to Sultanpur Lodhi, a 62-km stretch.
Dr Balbir Singh Bhaura, head of Dharti Suhavi, an NGO, and organiser of the main event, said the oldest cyclist who participated in the rally was 78-year-old Balbir Singh Boparai, secretary of the NGO, and 74-year-old Baljit Mahajan, who is India's No. 1 cyclist and has covered a distance of 1, 17,000 km.
He said during the rally, a special cleanliness campaign was carried out and cleanliness of the road leading to the holy city of Sultanpur Lodhi was encouraged. "Along with cycling to the holy city, people also collected garbage from the road and two ambulances with life support system and paramedics were part of the rally," he added.
He said the event was given support by several other social organisations, including Sikh Talmel Committee, Chugirda Bachao Committee, Punjab Jagrati March, Jal Welfare Society, Pahal and Punjabi Sath.