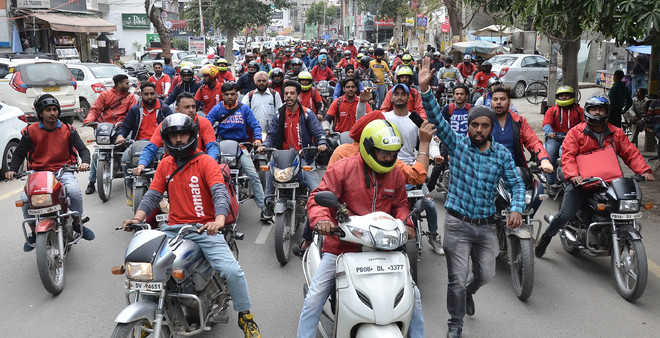 Jalandhar, March 13
Scores of delivery boys working with Zomato, an online food ordering firm, today came out in the open against the company, alleging injustice.
The delivery boys gathered near Lovely Dhaba, Football Chowk, this afternoon to protest against company policies that were no longer assuring good benefits and incentives, they said. They also held a bike rally from Basti Adda to Model Town to other parts of the city to show rage against Zomato and demanded additional benefits along with a revised pay scale.
Kuldeep Singh, a leader representing the staff, said Zomato hired them promising good allowance and easier targets. However, with the passage of time, it tightened the noose around them with higher targets, it had also cut down benefits offered to them. He said that they were earlier getting Rs 30 per order, while it had now been reduced to Rs 25.
He further said as per company's new policy, the incentive of Rs 10 per delivery would be given to a delivery boy if a customer gives five star rating.
"However, once a customer receives his/her food, they hardly bother about rating, thus it should not add rating as a condition in the policy," Kuldeep said.
"Earlier we were given incentives for multi-order. Like if we take two or three orders on the same route, the company provides us incentive for all orders. However, no incentives for multi-order are being given now, which is injustice and against the promises made by Zomato when we were hired.
"We were also in past delivering orders covering distance of 5.2 km, however, now we have been asked to deliver orders as far as covering 20 km," said the protesting staff, adding that the company assured to bear the fuel expenses for making deliveries over long distances. Contrary to their assurances, we are forced to shell out money for fuel from our own pockets, they added.
"We have decided to intensify our protest in case our demands are not met. The workers across the nation will come out in open against the company's wrong policies", Kuldeep said. — OC