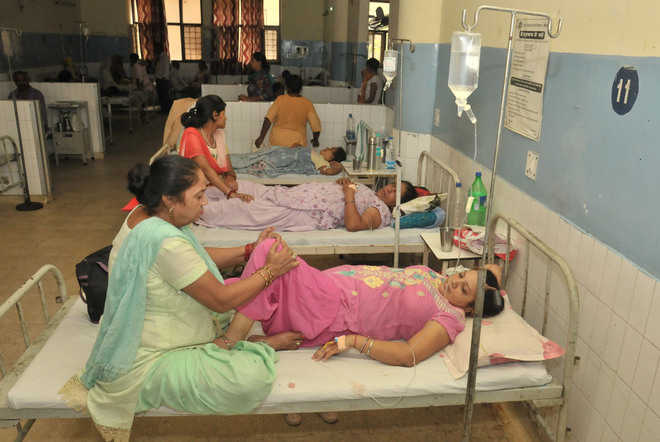 Aparna Banerji
Tribune News Service
Jalandhar, October 9
The total number of dengue patients in the district has reached 341, with as many as 37 more persons testing positive for the disease in the past three days.
Meanwhile, 45 persons in the district have also tested positive for chikungunya in the district.
Sources in the Health Department said of the 341 cases testing positive in the district, about half were from the Civil Hospital, while the rest were reported from private hospitals. "A sizeable number of hospitals are sending in dengue information, but it is not significant if the hundreds of hospitals in the city are considered. All private hospitals are only sending us the information about patients and all tests so far have been conducted at the Civil Hospital," said a senior official.
After the deaths, fever and reduced platelet counts reported from Nandanpur village, irate residents of Avtar Nagar (ward 51) area also held a protest against the MC for not having conducted fogging in the area and for letting sewage accumulate. While sewage trouble has kept residents on the tenterhooks for over a fortnight in the Avatar Nagar area, fever cases have risen in Gali No. 6 of the area.
Meanwhile, after having held camps in both areas for a couple of days, the health authorities are now only collaborating with the MC on challaning drives, as presently heath camps are not being conducted in any of the areas.
About 300 challans have been conducted in the city. Sources said the number would have been more if residents and MC co-operation would have been proper. Sources said, "In one of the recent areas where challaning had to be conducted, the area councillor did not allow any challaning. Additionally, in one of the drives one of the two sanitary inspectors turned up without a challan book. A staunch will also has to be displayed by all departments to fight the dengue menace."