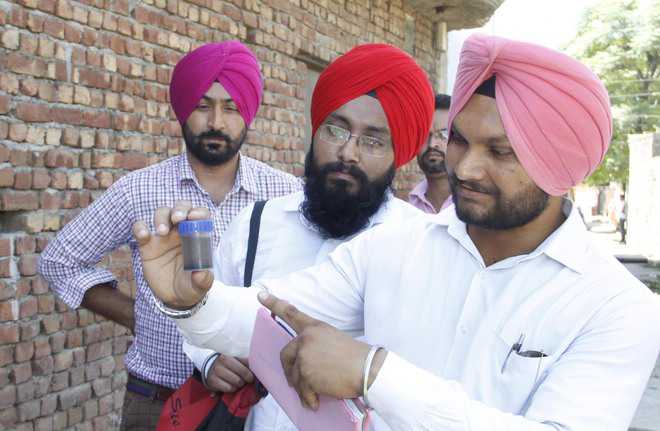 Aparna Banerji
Tribune News Service
Jalandhar, September 18
Less than a week after Kapurthala district registered 151 cases, the number of dengue cases in the district today reached 208, the maximum in the state.
Headed by Dr Gagandeep Singh Grover, state programme officer for vector-borne diseases as well as Civil Surgeon Kapurthala Dr Harpreet Singh Kahlon, teams of the Health Department today traversed various areas in the district, checking homes and relieving many sites of larvae which were found breeding there.
At the home of Kailash Kaur, a Kesar Bagh resident, dengue larvae were found breeding in a steel jug of water which had been left in the open for the past many days. The breeding eventually became the cause for Kaur's son, Sukhjinder Singh, testing positive for dengue.
Health teams also cleared a tyre in another house in the area where dengue larvae were found breeding.
While in the past few days, 30 patients have been admitted to the Kapurthala Civil Hospital with dengue, seven inmates of the Sukhjit Ashram Kapurthala were also admitted in the isolation ward of the Civil Hospital.
While the hospital already has five mosquito nets for the purpose of dengue, 15 new nets were also brought in today to ensure that more beds are incorporated in a new isolation dengue ward in the hospital, the process to establish which is presently on.
Dr Gagandeep Singh Grover, said, "We visited various areas today and stringent dry day drives are also being held to counter the spread of dengue. Massive mass awareness drives are being conducted so that people stop keeping utensils, tyres etc filled with clear water in houses. A single container is enough to cause fever in the entire neighbourhood. So people have to be very careful."
Civil Surgeon Dr Harpreet Singh Kahlon said, "It is true that this number of patients has never been seen in Kapurthala at least in recent years. The massive lack of information and awareness regarding the prevention of the breeding of the dengue mosquito has added to the problems. However, we are enlisting the help of local councillors, schools, NGOs religious institutions and political leaders to spread the word regarding the outbreak and counter its spread." Health teams also carried out drives to remove mosquitoes breeding in Sukhjit Ashram.
Top News
Voting for final phase of Gujarat polls ends, counting of vo...
Ahmedabad has recorded the lowest voter turnout of 44.67 per...
The Delhi govt opposes the Centre's plea saying it will only...
This comes as a major embarrassment to CM Bhagwant Mann who ...
According to CCTV footage, the two men enter the gurdwara an...