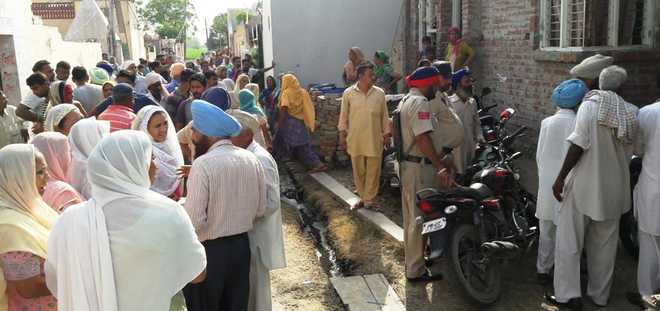 Our Correspondent
Hoshiarpur, June 19
In Marnaiyan village, under Mehtiana police station on Phagwara Road, tension prevailed for the whole day as a family of converted Christians who wanted to bury a deceased woman Surinder Kaur alias Chhindo in the cremation ground of the village was denied permission of burial by the village Panchayat and the surrounding people.
The office bearers of Pastor Association and Christian Front State President Laurence Choudhary, also reached there and stressed for the dead body to be buried in the cremation ground of the village.
Meanwhile, Additional SHO Santosh Singh and ASI Yograj Singh tried to persuade both the groups but they did not agree. Later, village people persuaded them on to cremate the body.
After the death of Surendra Kaur alias Chhindo in Manaraiyan village on Tuesday morning, her son Manpreet and family members were preparing to bury her body. In the meantime, the people of the village started protesting after seeing the people of the Christian community preparing for the burial.
The people of the village argued that there was a shortage of space in the burial ground of the village and if a dead body is buried, there will be no space for cremations to be done in the future. Villagers said when Chhindo's husband, Mangat Ram had died nearly six years ago, the situation became tense for the same reason.
At that time also, the people of the village people had persuaded the family to perform the cremation.
Christian Front State President Laurence Chowdhary said, "Christian population in Hoshiarpur district at present is about 1 lakh. Due to the non-availability of graveyard to bury the dead bodies of Christians in about 80 per cent of the villages, we have to face many hardships to bury the dead body according to our religion."